How Salsify Defined Their Hiring Principles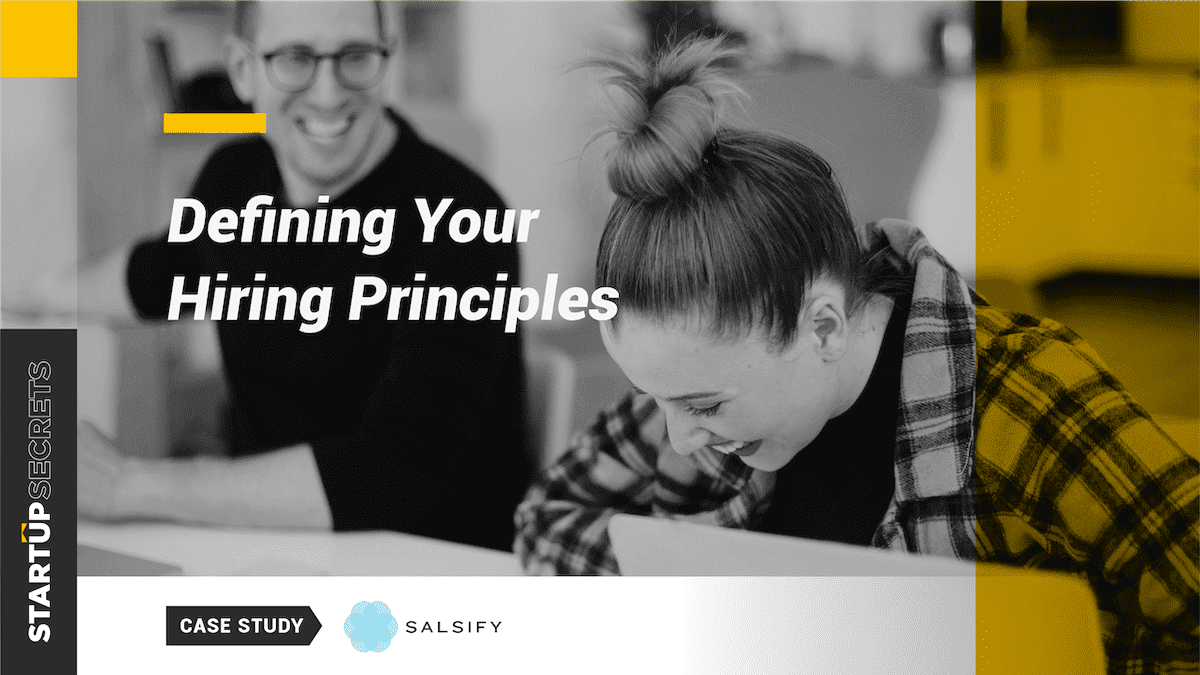 After several years of scaling and growth, in 2019, Salsify (one of Underscore VC's portfolio companies) set out to streamline the company-wide interview process. "Our goal was for every employee to become an expert at interviewing, evaluating, and making really strong hiring decisions," says Rose Pino, Salsify's Director of Global Talent Acquisition.
Who and How Salsify Hires
To make this happen, Salsify's Executive and Talent Acquisition teams partnered to define the company's hiring philosophies. All this work resulted in codified principles that Salsify calls Who and How We Hire.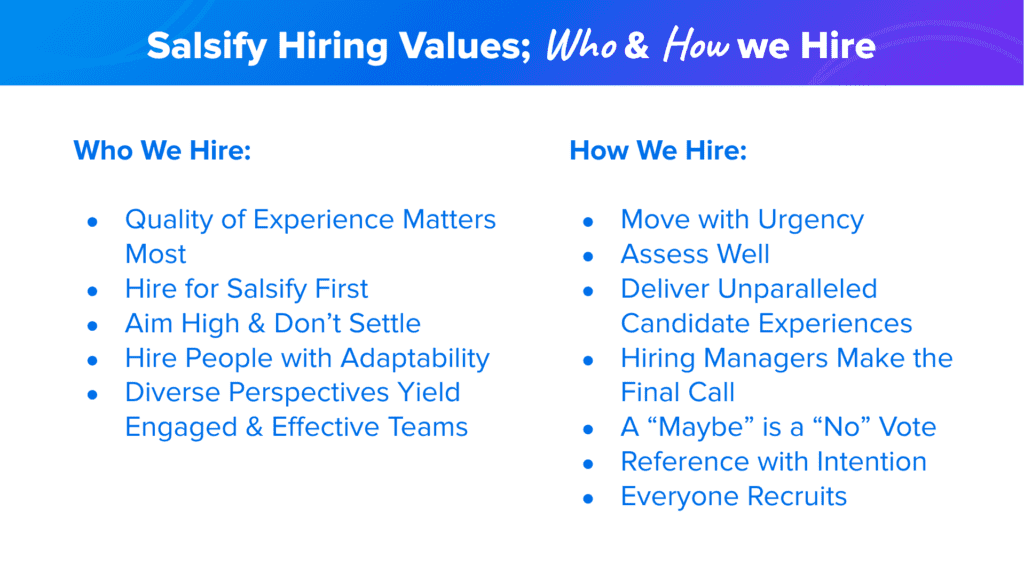 "It serves as the common thread to our hiring process," says Rose. With these principles, every team across the company can evaluate candidates on a shared set of characteristics.
To understand the "who," Salsify asked: What would be the persona of an ideal Salsify employee? How would they work? How would they make decisions? Why would they be successful?
To understand the "how," they asked: What hiring tenants are critical to our collective recruiting success? They needed a consistent way to assess the characteristics of an ideal Salsify employee, including:
Do they have the right experience, knowledge, and skills (EKS)?

Do they have a natural motivation to do the work?

What is their interest level in Salsify?

Do their characteristics align with Salsify's?
In Salsify's case, they landed on the following hiring characteristics:
Entrepreneurial

Curious with a point of view

Resilient

Humble and hungry

Autonomous
"We expect that these characteristics are naturally going to show up in varying degrees across different positions," notes Rose. "But all five should be present in every single hire that we make."
For example, someone in a Customer Success role might be relentlessly resilient as an unstoppable problem solver. But someone in a newly created position might need to be super entrepreneurial and comfortable failing fast.
Interview Training
Rose and her team built a module-based interview training program to equip all employees to assess these characteristics in candidates. The training would help employees dig for details and ask the right questions in interviews.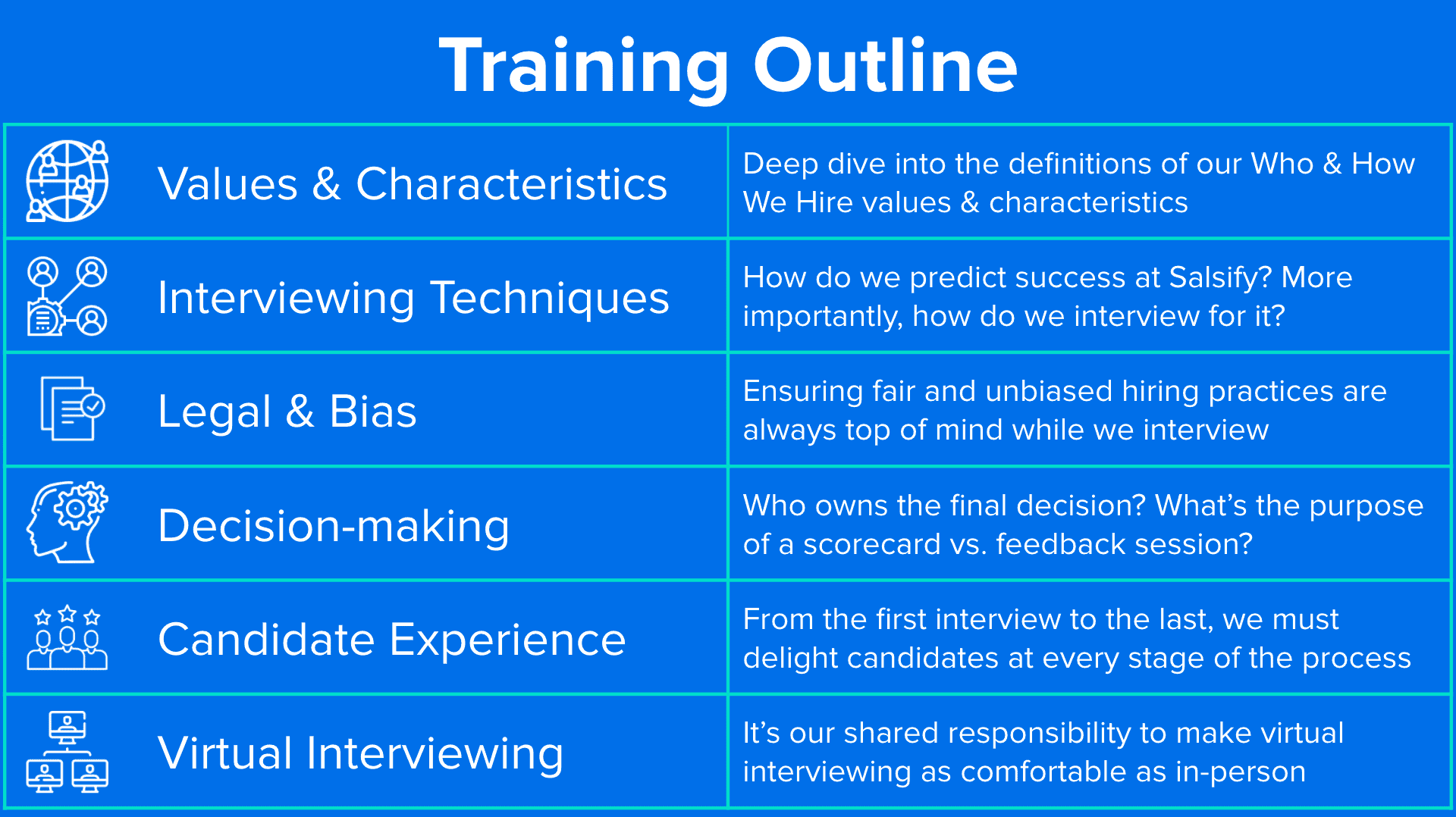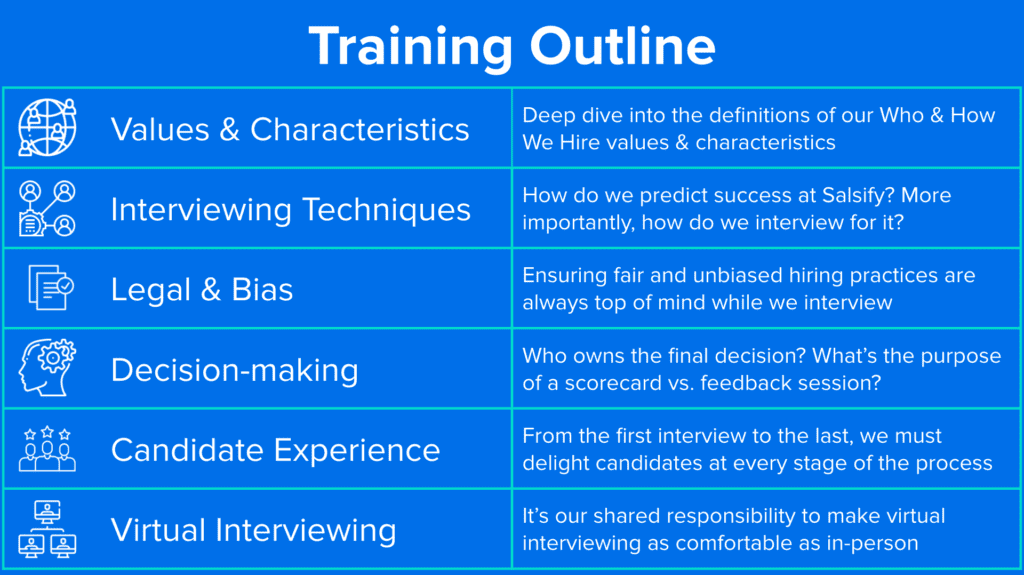 "Through this approach, we'll understand if somebody is going to be successful at Salsify as we go forward and as they go forward in their career," says Rose.
Conducting Interviews
In interviewing candidates, Salsify uses a combination of behavioral and situational interviewing tactics.
"Behavioral interviews help you unpack resume highlights," says Rose. For example, say someone lists 10 years of management experience on their resume. You'll want to understand how they lead teams, how they made difficult decisions, if they were a good manager, and more.
Behavioral interviewing can help assess this and often includes questions like, "Tell me about a time when…"
"The key to having a successful behavioral interview conversation is the follow-up questions," says Rose. "Why did you do that? What would you do differently? Follow-up questions help you understand the decision-making pattern that somebody has in their work."
But at the same time, "You're hiring someone to step in to solve a problem you're working on," says Rose. "If they don't know anything about what you're facing today, you won't know how they'll respond when they come in the door." That's where situational interviewing comes in.
A situational interview could include:
Whiteboarding exercises

Demos

Mock calls

A variety of tests
"The key with posing real-life scenarios is making sure that a candidate doesn't exclusively talk in hypotheticals," says Rose. "Because that's when we'll say, 'Well, we didn't come away with any real evidence of them being able to help us in this area.'"
To sum it all up, to hire the right people for your company, you have to know what you're looking for and communicate those characteristics across your team. Think about your own Who and How We Hire—what would it include?