Doubling Down on Boston with $140M of Fresh Earliest Stage Capital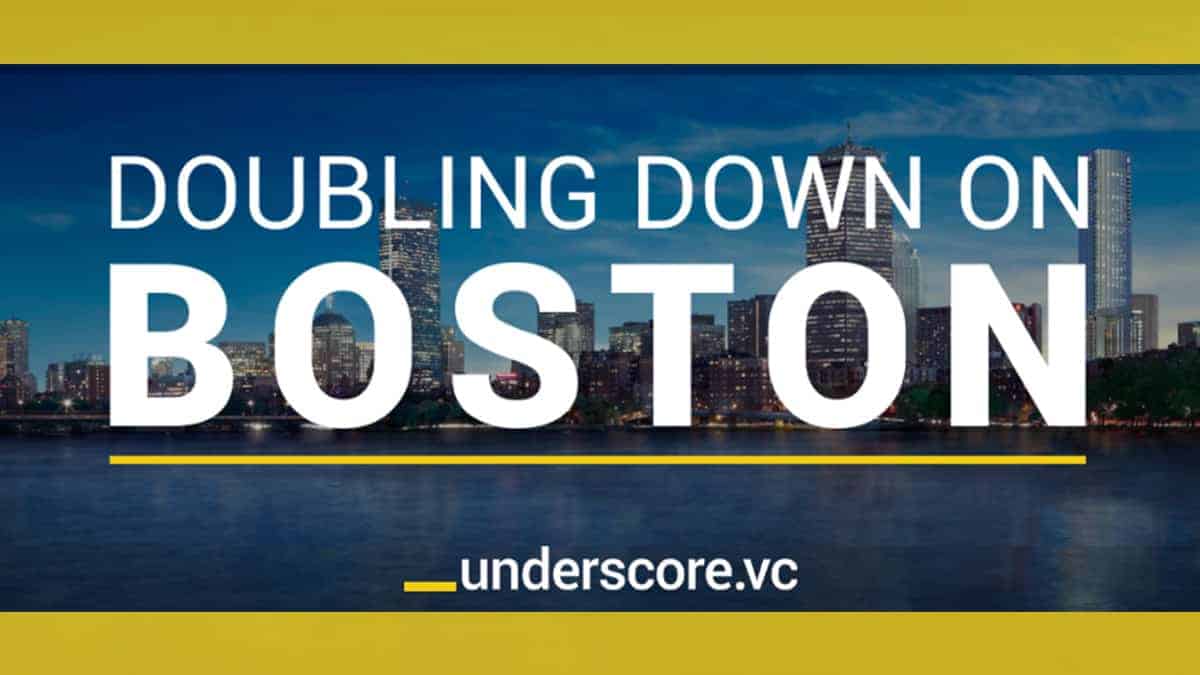 Fund II Oversubscribed as the Team Promotes Richard Dulude to Partner
Underscore has filed an amended Form D to cap our second fund (Fund II) at $140M! We've also made the decision to double-down on Boston startups and dedicate the oversubscribed Fund II to investing in earliest-stage SaaS applications and infrastructure startups that are located in or moving to Boston.
"We are thankful for the support and encouragement of our investors who convinced us to expand the firm further. Given Boston's culture of innovation and ecosystem of exceptional talent, we've chosen to go all in on our Boston community and focus investments on fueling bold, Boston-based founders."
— Michael Skok, Underscore VC Co-founder & Partner
Fund II was accelerated by Fund I Limited Partners that were eager to re-invest with the team. With commitments from some of the world's leading academic institutions, hospitals, and global foundations, we take great pride in not only supporting the Boston startup community but also creating a double impact through our investments.

Underscore will continue to invest in companies at the earliest-stage, focusing on those in the Saas applications and infrastructure space. We'll also continue to focus our energy on contributing to the Boston startup ecosystem through the engagement and expansion of the Underscore Core community. The community, which is comprised of Boston's leading entrepreneurs, executives, and tech experts, provides founders with the aligned resources necessary to build enduring businesses. The strength of the ever-growing community is exhibited each year at functional best-practice workshops, industry roundtables, topical dinners, peer meetups, community summits, and investment reviews for Core Partners.
To even better support the growing Core Community, we've rounded out our team with four new hires including, most recently, the hiring of Jenni Goodman. Jenni, who we're pretty sure has community building in her DNA, will serve as our Community Manager. We welcome you to reach out to Jenni and share how to best engage you!

We're also excited to share that, in 2019 we'll be breaking out our Underscore sledgehammers and busting through our office walls! In order to support more founders on-site in our office, we're doubling our incubation space in Old City Hall and making it available to the entrepreneurs in which we invest! We'll also make the space available to those that we engage through our UFirst Summer fellowship program.

Additionally, As we close Fund II and ring in the new year, we've promoted our co-founders, Richard Dulude, to Partner!
"This is a multi-decade business, which is why we've focused from the start on making Underscore multi-generational. Richard had proven himself as an angel investor before co-founding Underscore, and he's already had successful exit events at Underscore. Most importantly, he knows more than anyone that 'Partner' is not as much a title as it is a role and a responsibility to truly partner with the entrepreneur."
— John Pearce, Underscore VC Co-Founder & Partner
Richard, who co-founded Underscore with Michael Skok & John Pearce in 2015, began his venture career at Founder Collective after exiting Popt, a machine learning startup he co-founded. Previously, Richard worked as a developer at Apple and a quantitative analyst at Goldman Sachs. Richard holds an MBA from Harvard Business School and a Masters of Engineering and Bachelors of Science from Cornell University.

"To be able to think about the most promising ideas and technologies that can be useful to the world, and to be able to support the individuals that are taking great personal risk to bring these ideas to fruition is undeniably a privilege, full stop. Every day I feel fortunate to work with the incredible team that makes Underscore possible. From our LPs to the entrepreneurs we back, thank you for the opportunity to invest everything I have behind you."
— Richard Dulude, Underscore VC Co-founder & Partner
Having made his mark championing AI/ML, cloud infrastructure, and blockchain technologies, entrepreneurs have repeatedly sought to partner with Richard, including two of our most recent investments, Forge.AI and Arwen. Additionally, Richard has been a Board Observer at other Underscore portfolio companies, including Salsify and Zaius, which have progressed into their respective growth stages.
"For me as a first-time founder, Richard has been incredibly valuable in helping us navigate the ups and downs of running a startup. He's not only fun to work with, but he has really invested his time in understanding our business and thoughtfully helping us navigate each challenge. It's great because he has seen it all before."
— Sharon Goldberg, Arwen Co-founder & CEO
"Richard is a partner in the truest sense of the word. He's hyper-focused on what's right for Forge, and acts as a reliable sounding board. Also, look where Richard is investing — he's focused on where the puck is going, not where it's been — Those are the people we want as partners. We're fortunate to have Richard in our corner and on the Forge board."
— Jim Crowley, Forge.AI Co-founder & CEO
We welcome you to share this exciting news for the Boston startup community (Click to Tweet!) and we encourage you to engage with us and the Core Community in 2019 and beyond! It's been a heck of a year, but we've only just begun – Let's rock and roll.