Why We Invested in Kard: Fintech Meets AdTech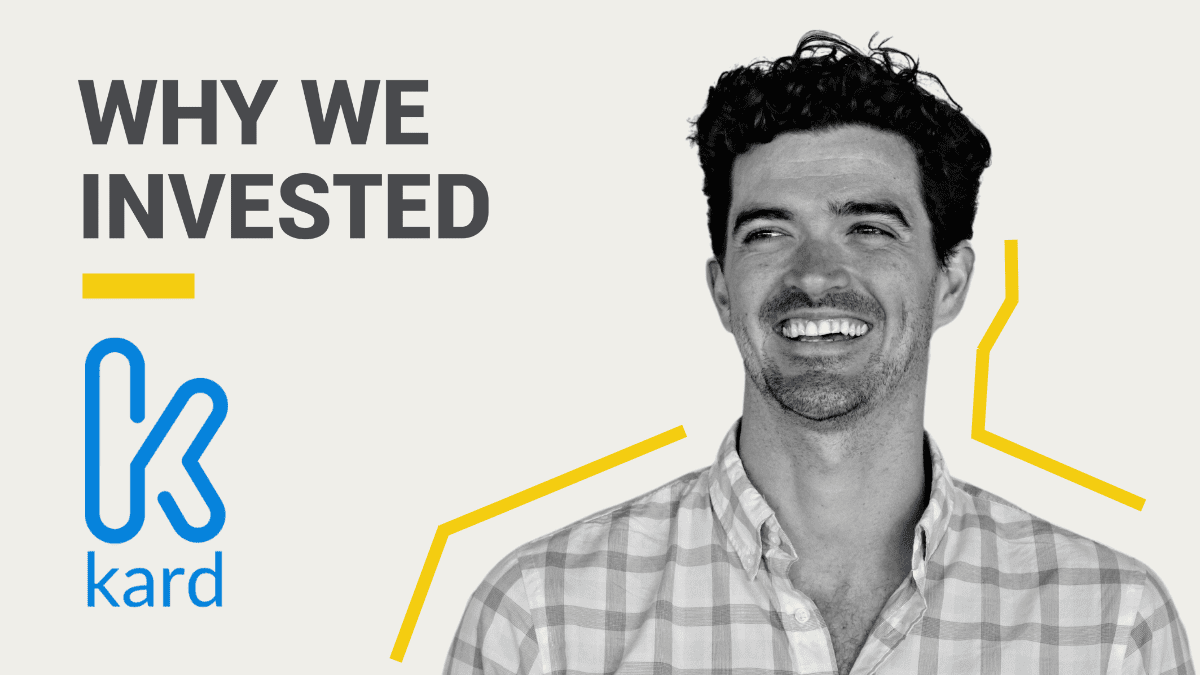 Something very exciting is happening to payment cards.
No longer shackled to the physical world, a payment "card" is now more accurately thought of as one of several user interfaces into an increasingly rich universe of digital banking services.
When a card issuer offers a card to their customer, more often than not it is paired with a mobile app that exposes other bank-like services like checking balances, spend limits, transfers, etc. It can also serve as a funding mechanism for digital wallets like PayPal or Venmo and exist as a "virtual card" for ecommerce or mobile payments in Apple Pay or Google Pay.
But you know what hasn't changed? The card issuer's desire to do a better job at engaging the customers and get their card to the top of their customers' wallets. Nor have consumer's expectations changed. They rightly expect that a card experience now includes ever more compelling rewards like offers, points, rebates, cashback and even Uber credits! It's well understood how loyalty programs drive consumer engagement, and with each turn of the fintech innovation crank, the bar ratchets higher.
This is where Kard comes in.
Kard is the first "rewards as a service" platform targeting the exploding ecosystem of neo-banks, non-bank card issuers, and traditional banks finding themselves in the fight of their lives with digital-only upstarts.
By simply integrating with the Kard API endpoints, card issuers can easily embed a rewards program into their card and virtual card experiences. When compared to a long and painful enterprise integration and the lack of flexibility of existing solutions, the quick time to market and flexibility of Kard enables these companies to quickly launch a rewards program and tailor it specifically for their customers. Maps of nearby offers, category filtering, timely in-app notifications…Kard's issuer partners know how to engage their own cardholders best.
These card issuers don't need to sign up or integrate with retailers, match transactions with specific retail locations, negotiate ad rates or manage settlement payments for rewards and rebates. Kard does that for them. Better yet, the Kard integration model means the card issuer can completely control the user experience in their apps.
On the other side of the Kard network are their merchant partners. Brick and mortar and online merchants need loyal and engaged customers now more than ever. Kard, with its focus on the neo-banks and other next-gen fintech platforms, lets them directly reach notoriously hard-to-target and extremely valuable Millennial/Gen Z consumers — sowing the seeds of generational loyalty with millions of young spenders.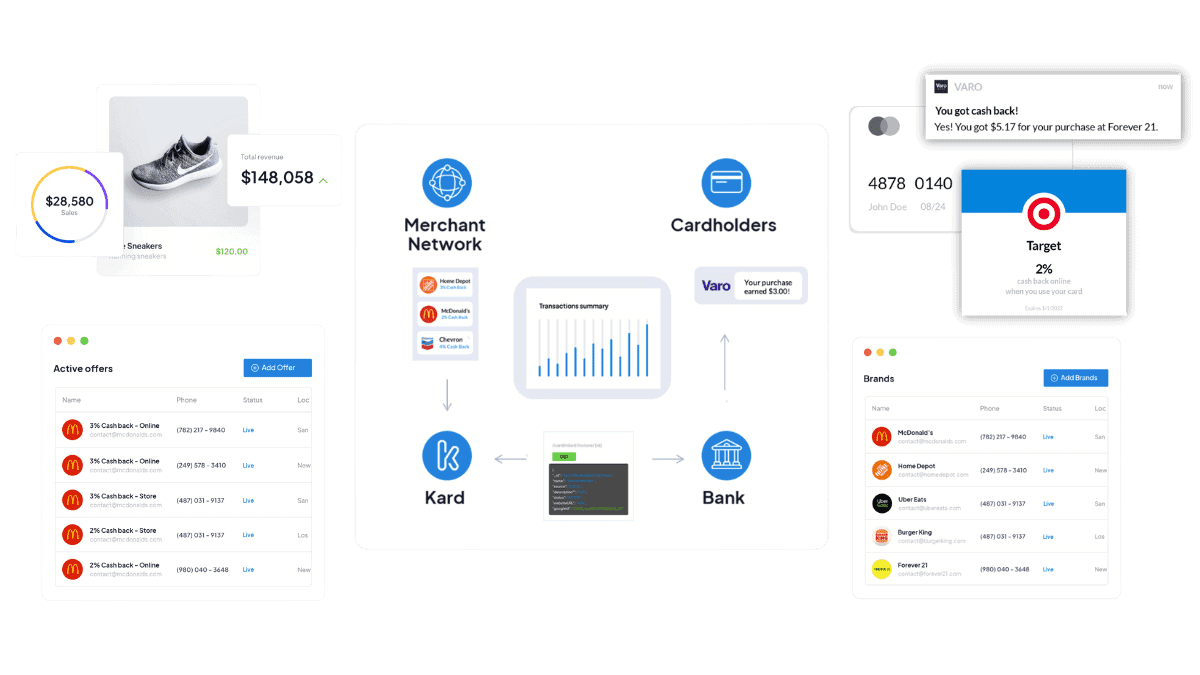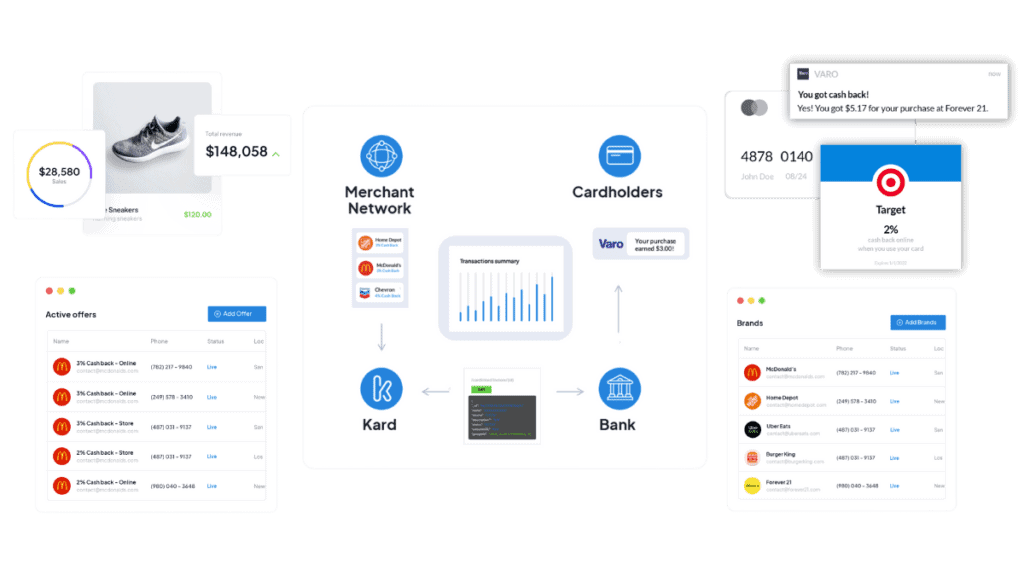 On top of that, Kard also helps merchants by targeting their offers to the consumers who are most likely to engage based on a variety of factors, including their location and where they've shopped in the past.
And when consumers are reached through the Kard platform (via their card partner's engagement methods), merchants are able to attribute the effectiveness of their marketing down to the individual transaction. For merchants, precise targeting of a valuable user segment, combined with clear attribution, results in a very high ROAS (return on ad spend), averaging more than 10X across the Kard platform!
A Colossal and Rapidly Growing Market Opportunity
By solving for the challenges of neobanks and other fintechs and helping merchants reach one of their most coveted audiences, Kard is addressing a huge and rapidly growing market. Neo-banks represent an important part of Kard's target market and one that is projected to grow at a compound annual growth rate of 47.7%. But the beauty of Kard's platform is its ability to service not just neobanks, but the full spectrum of new non-bank issuers, traditional banks, and the broader fintech market that are all issuing unique card experiences. This creates a massive market opportunity set to absorb the greater than $140 billion in digital advertising spend annually in the US alone.
A Founder in Their Element
Kard is led by Ben Mackinnon, a smart, charismatic and authentic entrepreneur. Ben was introduced to Underscore VC by Core Member Tom Ebling, who is now a Core Partner in Kard.
From our first meeting with Ben, it was clear not only that he was solving a big problem, but also that he had the leadership chops and talent magnetism to make it happen.
Early in the Kard journey, Ben was able to engage credit card industry icon Lance Weaver, former Chairman of Mastercard and Executive Vice Chairman and Chief Administrative Officer of MBNA, who has become an invaluable advisor, investor, networker and friend of Ben and the Kard team. Ben has also surrounded himself with deep domain expertise by crafting a leadership team of savvy entrepreneurs and seasoned executives with backgrounds in financial services, payments, ad sales, and MarTech.
A Strong Roster of Impressed Customers and Partners
In spite of the pandemic headwinds, Kard had a great 2021. The team won over some of the leading neo-banks and service providers in the US, including Current, Varo, M1 Finance, Mission Lane, and a host of other partners. The team has also tripled the number of brands in Kard's merchant network, all of which are excited about Kard's consumer base.


As an investment firm, one of our litmus tests is having customers and partners who are not only satisfied with, but excited about their relationship with the companies we fund. Kard passed the test.
"Kard's unique model allowed us to build our own unique experience and control how our customers engaged with rewards," attested Behzad Behrouzi, Varo's VP of Product Management. "Our ability to tailor the experience to our customers, combined with Kard's breadth of merchant relationships, got us excited about working with Kard and we look forward to continuing our partnership."
As investors, when we find the magic combination of team, market, product and happy customers, it becomes awfully hard to resist. And last summer, we were thrilled to be able to lead Kard's $6.5M Seed financing. Thanks to Ben and team for letting us be part of their journey.