Making Meetings Meaningful: Why We Invested in Macro's $4.3M Seed Round
71% of managers agree: meetings are unproductive and ineffective.
The shortcomings of meeting effectiveness have long been true even before the global pandemic, and now are only exasperated. As we work remotely during quarantine, many of the positive aspects of meetings – such as brainstorming on whiteboards, physical proximity to your peers, and a strong read on body language – are gone, as meetings have been relegated to our laptop screens.
Regardless of their shortcomings, video meetings are the future of employee collaboration. For many employers, the pandemic has resulted in a more progressive outlook on remote work. Companies like Twitter and (my former employer) Facebook have announced their plans to allow employees to work remotely forever.
These companies and their employees will reap the benefits of this new normal – more flexibility on where people live, less time spent commuting, access to different talent pools, and the list goes on. Still, despite the perks of work-from-home, many companies fail to maximize the value of shared employee facetime, and Zoom fatigue is already very real.
As companies and their employees increasingly rely on software for collaboration, workflow automation, productivity, and even how we hire and manage people, we recognize the need to invest in new solutions to make meetings more effective and impactful uses of our time.
That's why we are thrilled to announce Macro's launch and $4.3M Seed funding, led by Underscore VC, FirstMark, and General Catalyst.
This funding marks a re-commitment to two bold founders we've been proud to back since the earliest stages of their journey, Ankith Harathi, and John Keck. Additionally, I'm excited to be joining Macro's board.
What is Macro?
Macro sets out to make meetings more productive by giving your meetings "superpowers."
A meeting interface built on top of Zoom, Macro offers insights and interactivity that bring your video meetings to life. The product enables meetings to be a seamless part of your existing workflow while providing a customizable experience with no change in the fundamentals Zoom clients have come to expect. The same meetings and the same links still apply, and the product is built so individuals can try it out themselves – even if the rest of their team utilizes the regular Zoom experience.
With $4.3M in fresh financing, @macro_HQ sets out to deliver a super-powered interface for the workplace. And they've started with your Zoom meetings.
Click To Tweet
Here are some of our favorite early features that address the pain points in meeting experiences today:
Participation visualization: Macro's intelligent real-time air time tracking and summary reports show who contributed the most during each meeting. Macro generates data for this previously subjective human dynamic, allowing teams to engage quieter members of the team during the meeting to create more balanced conversations. For the data-driven people managers on your team, it's a rather addictive feature.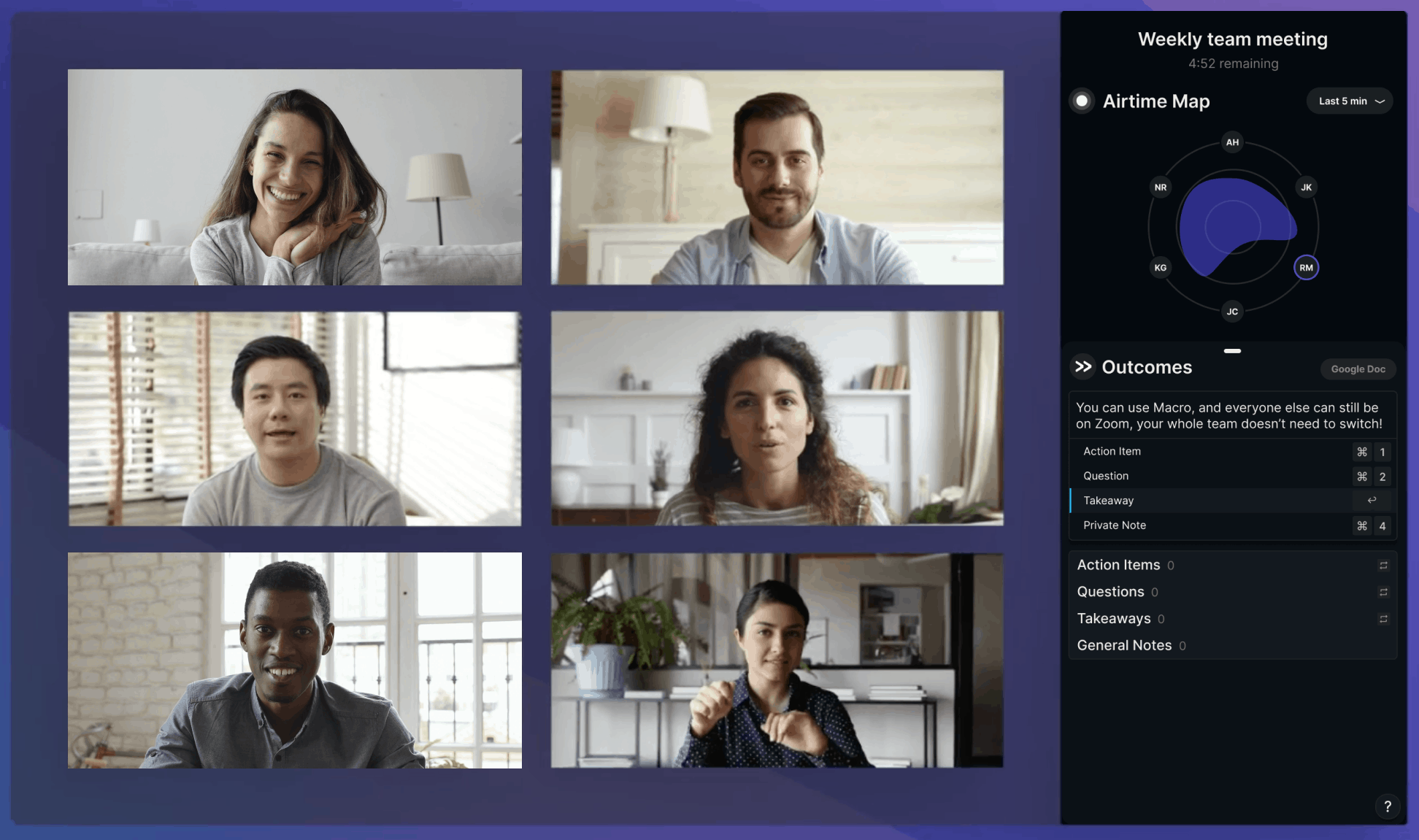 Optimize for each meeting's purpose: Whether it's a discussion or a collaborative brainstorm, meeting attendees will access a unique UX to suit the needs of the call or each attendee's role in the meeting. Because Macro boasts a powerful meeting interface built on top of the Zoom SDK, you can customize your video experience right in the interface and connect with your existing workflow through integrations with other apps.
Integrated and automated meeting outcomes: Each meeting has a native, smart notepad for collaborative note-taking, with real-time categorization of notes (e.g. action items, questions, or takeaways). Meeting notes are synced with Google Docs – with recurring meetings sharing the same running doc – and are automatically shared with attendees following the meeting so that everyone is clear on key takeaways and follow-up tasks. Thus the pre/post-meeting experience is brought into the meeting interface itself.
These features are just the beginning for Macro. The way we work has fundamentally evolved with this new world in a way that will persist. The meeting experience needs to evolve with this new paradigm, and Macro is positioned to deliver with the next-gen meeting experience.
Why We Invested
Product-driven Founders We've Been Excited to Support Since Day One
With this investment, we are continuing to back Ankith Harathi and John Keck. We had the privilege to meet Ankith and John during their postgraduate studies at Harvard and got to know them further when they applied to UFirst, a summer accelerator Underscore ran in the summer of 2019. Ankith and John displayed all the traits we look for in great founders and brought strong product-oriented operating experience from fast-growing startups including DoorDash and Gamer Sensei.

Since we've known Ankith and John, they've rightfully stood out in Boston's thriving entrepreneurship scene. Their strong product talent, an instinct for great user experience, and scrappy ability to get products out to market, are just a few of their noteworthy traits.
When we first engaged, the team had launched a Slack-based meeting rating product to collect and share data on meeting productivity. In just a few months, the team had thousands of users and early footholds in customers like Wayfair, Drift, Toast, Compass, and Uber among others. We were proud to write the first check in the pre-seed round, alongside our great local syndicate partner, NextView. And through our community-driven model, we engaged Matt Bilotti, product leader and early hire at Drift, as a Core Partner and mentor to the team.
A Real, Timely Problem In Which We're Personally Invested
Meetings have always been a sore subject in the conversation of workplace productivity.
I've worked on large teams and small, in product organizations and sales – no matter the size or function of the team, making meetings more effective has always been a challenge.
Meetings directly affect a company's most valuable resource – the time of its people. One assessment attributes more than $37 billion spent per year in unproductive meetings. The intangible benefits of sharing a physical space are on pause – potentially indefinitely – so making meetings matter is more important now than it ever has been.
A Sizable Market That's Ready for This Solution
The growing workplace collaboration application market was valued at $11 billion in 2018 – a number that has certainly grown as companies adapt to a new way of managing their employees across cities, states, or even countries.
While this market has big players in areas like employee chat and asynchronous collaboration, the problem of meeting effectiveness remains ripe with opportunity, providing plenty of white space for a company like Macro to make a significant impact with a solution that improves meetings while they are happening.
Learn More About Macro
We are excited to continue to partner with Ankith and John on this next leg of their journey, alongside a great syndicate with FirstMark and General Catalyst, and a great group of angels, including Jason Warner (GitHub CTO), Julie Zhuo (former Facebook VP of Design), Harry Stebbings (20minVC Founder/Host), Adam Nash (Dropbox, Wealthfront, Linkedin), Clark Valberg (Invision CEO).
If you're interested in a better, more productive, and more interactive meeting experience, Macro is available free on macOS here – download it now to start making your meetings a better use of your time.
Plus, if you're interested in joining the growing Macro team, they are hiring!