Why We Invested in Appregator: The Ideal Partner For Shopify App Developers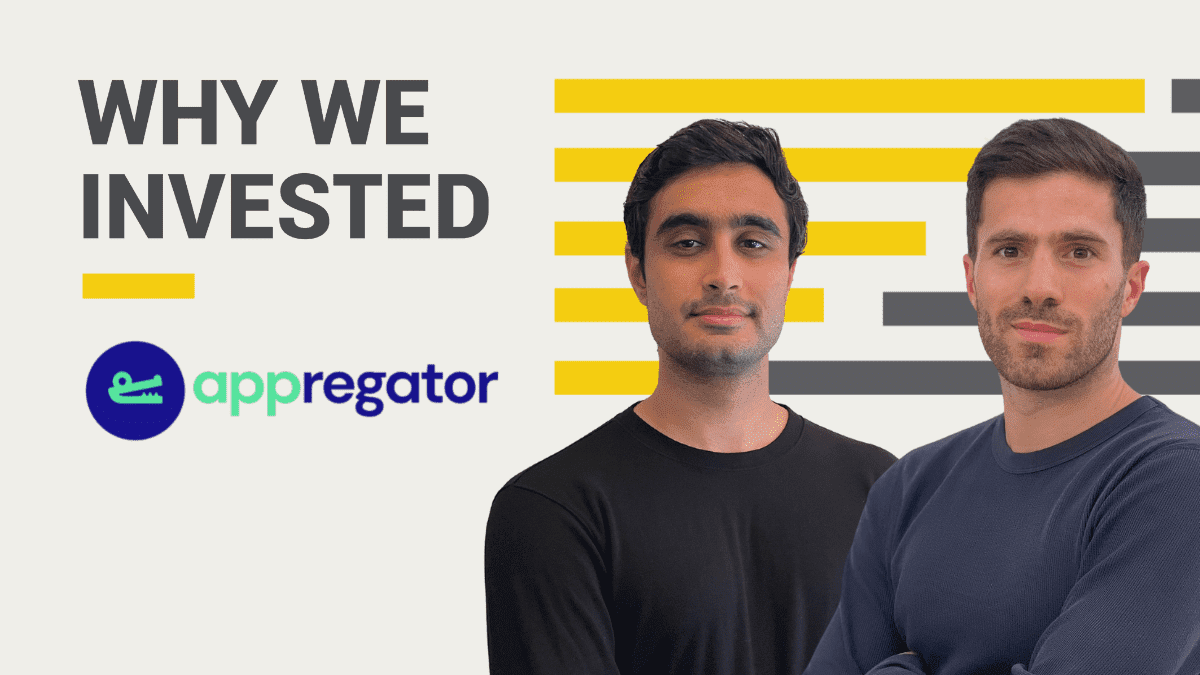 Global eCommerce sales are expected to reach $5T in 2022, up from $2T just 5 years ago. Annual eCommerce sales in the US alone are expected to surpass $1T for the first time in 2022, a milestone pushed up by two years as a result of the pandemic. This rapid increase in online shopping, paired with the growing ease of launching an online storefront via Shopify, or similar offerings, has led to significant growth in the number of online merchants. Shopify now has over 1.75M merchants on its platform.
While it's never been easier for a merchant to launch an online storefront, the tooling and ongoing effort required to market, run and maintain that storefront is becoming increasingly complex as competition soars and consumers expect 11-star online shopping experiences. As a result, Shopify's App Store now has over 7,000 publicly available apps independently launched to help address this complexity and provide better shopping experiences.
Surprisingly, some of the most effective eCommerce enablement applications are not full-time businesses for their founders. Within the Shopify App ecosystem, many of the best solutions are hatched by eCommerce brand operators who coded an internal solution to solve an urgent need and later launched it on the App Store as a side project. In addition to monetizing their hard work, most creators want to ensure their apps remain relevant, reliable, and highly rated by merchants, which can be challenging for already busy operators.
Enter Appregator, which aims to solve these pain points for both merchants and app creators on their way to becoming the leading provider of eCommerce software for Shopify merchants.
Appregator will begin by acquiring and scaling outstanding Shopify apps available to the close to 2M merchants on the platform. By partnering with bootstrapped teams, Appregator will focus full-time on scaling marketing, sales, pricing, product, and customer support with a portfolio of diversified solutions, each of which will have the potential to be an enduring category leader. Appregator provides app developers a reliable and efficient exit at a fair price, allowing them to monetize their hard work and trust that their app is in safe hands.
Today, we're thrilled to share that Underscore VC led Appregator's first round of financing. Read on to learn more about why we invested.
Driving Growth for Shopify App Bootstrappers
In 2021, Shopify's Partner ecosystem generated $32B in revenue, up 45% from the year prior. The top 20 Shopify apps in a category can generate tens of millions in revenue each. With that in mind, it's not difficult to imagine how a suite of well-maintained, highly rated, and integrated solutions can turn into a very large business.
Several months ago in our Dianthus why we invested piece, we shared that we see a large market opportunity for an AI-driven software approach in the eCommerce brand aggregation space. Similarly, we also see an opportunity to apply an aggregation strategy to the growing Shopify Partner ecosystem – particularly by partnering with bootstrapped software founders to help optimize and scale their business.
The average Shopify merchant uses more than half a dozen apps to run their business, with many using more than ten and installing new apps regularly as consumer preferences shift, competition evolves, and previously used apps become less reliable. We've observed that reliability and interoperability across this growing ecosystem of apps is a real and growing problem for merchants. It's not uncommon for merchants to install a new app and have it crash another critical app, which leads to poor reviews and is often a disincentive for trying out new solutions.
The Appregator team is building their business on trust across multiple levels. For merchants, trust means apps that are well maintained, integrated, and have support teams that are responsive. Trust also applies to the creators of these apps. In a world where companies are acquired only to be subjected to financial engineering and then quickly re-sold, Appregator provides a real home for the suite of apps they manage, ensuring a lasting legacy for the software.
While we're compelled by the market opportunity outlined above, successful execution will require a highly focused team with specific skill sets that span D2C and eCommerce software paired with overall sound acquisition execution. We couldn't be more excited about a founding team that's purpose-built to tackle this opportunity.
Uniquely Qualified Founders
The Appregator founders are Harvard Business School classmates Marc Abousleiman and Mishaal Nathani. Marc is an investor and Harvard Computer Science honors graduate. Mishaal is a former D2C brand operator, e-commerce agency founder, and law school graduate. Marc's computer science background and experience executing M&A transactions, paired with Mishaal's expertise in building, branding, and optimizing D2C eCommerce businesses make them a phenomenal fit for this business.
Marc and Mishaal are using their wealth of knowledge and lived experience to build a scalable and data-driven approach for identifying and securing partners. As we spent time getting to know Marc and Mishaal, it became evident that they are not only purpose-built for this business but that they are also approaching their strategy in an incredibly detailed manner, which is critical for founders at this stage.
We're continually impressed by the caliber of founders starting companies from within the academic ecosystem in Boston, and Appregator is no exception. We're thrilled to partner with Marc and Mishaal as they continue to build Appregator.
What's Next for Appregator?
While operating primarily in stealth, Appregator is focused in this next phase on integrating its first set of acquisitions and building relationships with potential partners across the Shopify ecosystem. The team also recently launched a podcast focused on the Shopify App ecosystem. On the hiring front, Appregator is actively looking to fill roles across M&A, product, and marketing.
If you are a Shopify app developer considering an exit or new financial partner, please reach out to hello@appregator.io!