Why We Invested in Clockwork: AI-powered Financial Planning for SMBs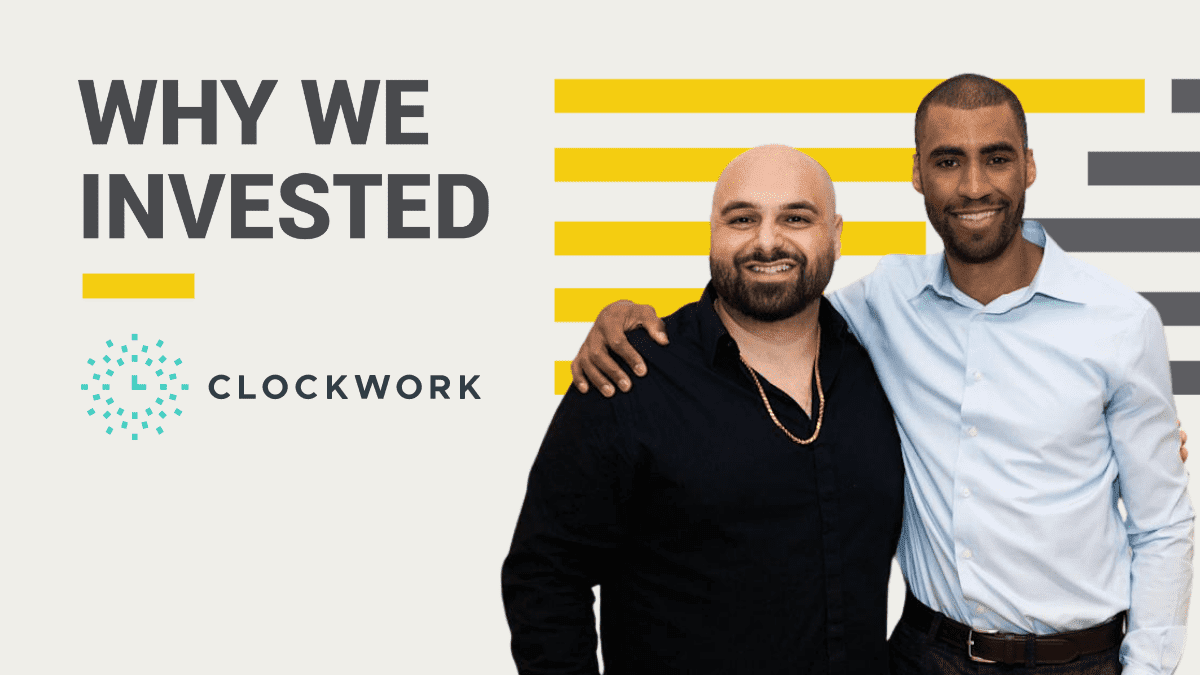 Of the businesses that fail, a staggering 82% of them do so because of cash flow problems. This is heightened by poor visibility into business financials, or a lack of financial literacy required to compile a holistic forecast and financial plan.
89% of the over 6 million employers in the United States have fewer than 20 employees. Most of these businesses do not have a full time finance person, let alone someone focused on financial planning and analysis (FP&A). Many small businesses turn to outsourced CFOs, who generally run their services on spreadsheets and ad-hoc phone calls and can only take on a finite number of clients as a result.
While there are a whole host of incumbent and upstart tools aimed at helping in-house finance teams at large enterprises and scaling companies, the tooling for both SMBs and their outsourced CFOs is severely lacking.
Enter Clockwork — Clockwork helps small businesses and their outsourced finance partners take control of their finances by spotting both problems and opportunities sooner with tools and analyses previously only available to growth stage enterprises.
Today, we're thrilled to share that Underscore VC led Clockwork's $2M Seed round. Read on to learn more about why we invested.
The Opportunity: AI-Powered Financial Planning and Analysis for SMBs
Built by a former outsourced CFO, Clockwork is an incredibly easy-to-use and accurate AI-powered financial planning and analysis platform. Clockwork's technology enables often overlooked companies to save 20+ hours a month on managing, planning, and predicting their finances and cash flow. With integrations into QuickBooks Online and Xero, the platform automatically builds unique 5-year projections, 52-week cash flow forecasts, dashboards, and can build unlimited custom assumptions and scenarios in seconds, not days or weeks.
And that's just what they can do today. Here's why we're bullish on Clockwork's future:
A mega-market opportunity: Clockwork solves a significant and consistent problem for upwards of 5 million US-based businesses. Clockwork can become a significant business driving real-world impact serving even a small fraction of this market. We're compelled by the open space in the market for a product that empowers outsourced finance professionals and small businesses, requires zero hand-held implementation, is easy to use, and cost-effective for the customer.
Market tailwinds and a clear 'why now': Components of the Clockwork product and vision simply could not exist even five years ago. The integrations, AI prediction engine, and collaborative nature of the Clockwork product were previously not possible or cost-effective to build for the SMBs Clockwork targets. Additionally, modern accounting software and data have significantly shifted millions of users from closed desktop systems into the cloud, a critical prerequisite that enables Clockwork to automatically pull in up to 3 years of financial data and learn from a business' historical trends, seasonality, and other traits to build a detailed model and forecast. Accounting software Quickbooks, for example, has brought upwards of 5 million users online since 2015, each of which would benefit from Clockwork.
A differentiated approach targeting the overlooked: All businesses could benefit from better financial visibility. However, those without a dedicated FP&A team are the most lacking and also the most overlooked. There are plenty of startups solving real problems for FP&A teams, large enterprises, and growth-stage venture-backed startups with dedicated finance teams, but Clockwork is tackling the overlooked SMB part of the market.
We're big believers that AI combined with a product-led growth strategy will democratize access to best-in-class software for SMBs in a way that is otherwise cost-prohibitive due to how much large sales, implementation, and account management teams can drive up costs of customer acquisition. We're compelled by how simple it is to get up and running with Clockwork compared to alternatives which can take months to purchase and implement, wasting time and money that most SMBs simply do not have.
Moreover, as a firm, we've seen a large handful of companies working to leverage AI to automate away the role of finance completely. Clockwork's aim is to empower, not replace, the role of finance for SMBs, and that's exactly why we like it. We don't believe in a future where the strategically important role of finance is automated away, and believe intelligent automation can democratize access and free up time to focus on strategic financial planning.
Team, team, team: As investors, we're drawn to founders and teams that have 'lived the problem' and are able to continually and quickly translate their understanding of the problem into a product, get that product into the hands of customers, and consistently iterate. Our conviction to invest in Clockwork stems from a team that's purpose-built for the part of the industry they're going after with a deep understanding of their customer and a proven ability to execute.
The Team Purpose Built to Tackle Small Business Finance
We were introduced to the founder and CEO of Clockwork, Fady Hawatmeh, by Armen Zildjian, VP of Sales at Drift and a member of our Core Community.
From our first meeting with Fady, we were impressed with his drive, conviction, and passion for the problem Clockwork is solving, a problem that Fady has experienced firsthand for the last 15 years of his career. While working in FP&A at Boeing, Fady managed a set of unbelievably complex spreadsheets for planning and budgeting. From Boeing, he was CFO at Third Eye Health before starting his own outsourced CFO firm, where he worked with dozens of SMBs to manually solve the problems the Clockwork platform will eradicate.
Our conviction in Clockwork grew when we met Mike Webb, Clockwork Co-Founder & COO, and Alex Wunderlich – VP of Product.
Mike is a Chartered Financial Analyst and was a Director at Fifth Third Bank and a VP at Wells Fargo. Mike's clients were Fortune 100 CFOs, and he led capital market transactions, so he's familiar with complex financial models and how inefficiently even some of the largest organizations perform this work. Mike's background and knowledge will help Clockwork bring sophisticated FP&A to small businesses.
Alex was the first US product hire at Fathom, where he worked on features for B2B financial analysis and reporting. Alex was also an Analyst for a family office where he regularly built financial models. Alex has a deep understanding of the Clockwork customer, pain points, how the product functions today, and vision for the product going forward — all of which are qualities we look for in exceptional Seed stage product leaders.
Transformational companies are built by great teams, and while Clockwork is just getting started, they have accomplished a lot in the past year with a lean team. They've quickly scaled to 100+ businesses and dozens of partners, and we've been impressed with the feedback from early users about the ease of use and leverage Clockwork gives to their business. Unlike other back-office software, users of Clockwork onboard fast, are highly engaged, and log in on average 12 times a month.
What's Next For The Clockwork Team
With the fresh funding, the Clockwork team is focused on expanding the product footprint and building out their go to market team. Clockwork is looking for stellar talent across marketing, sales, and customer success in addition to full-stack developers. See open roles here!
If you're a business that could benefit from Clockwork – try out the product today for free.