Missed Calls Mean Lost Business: Why We Invested in Slang AI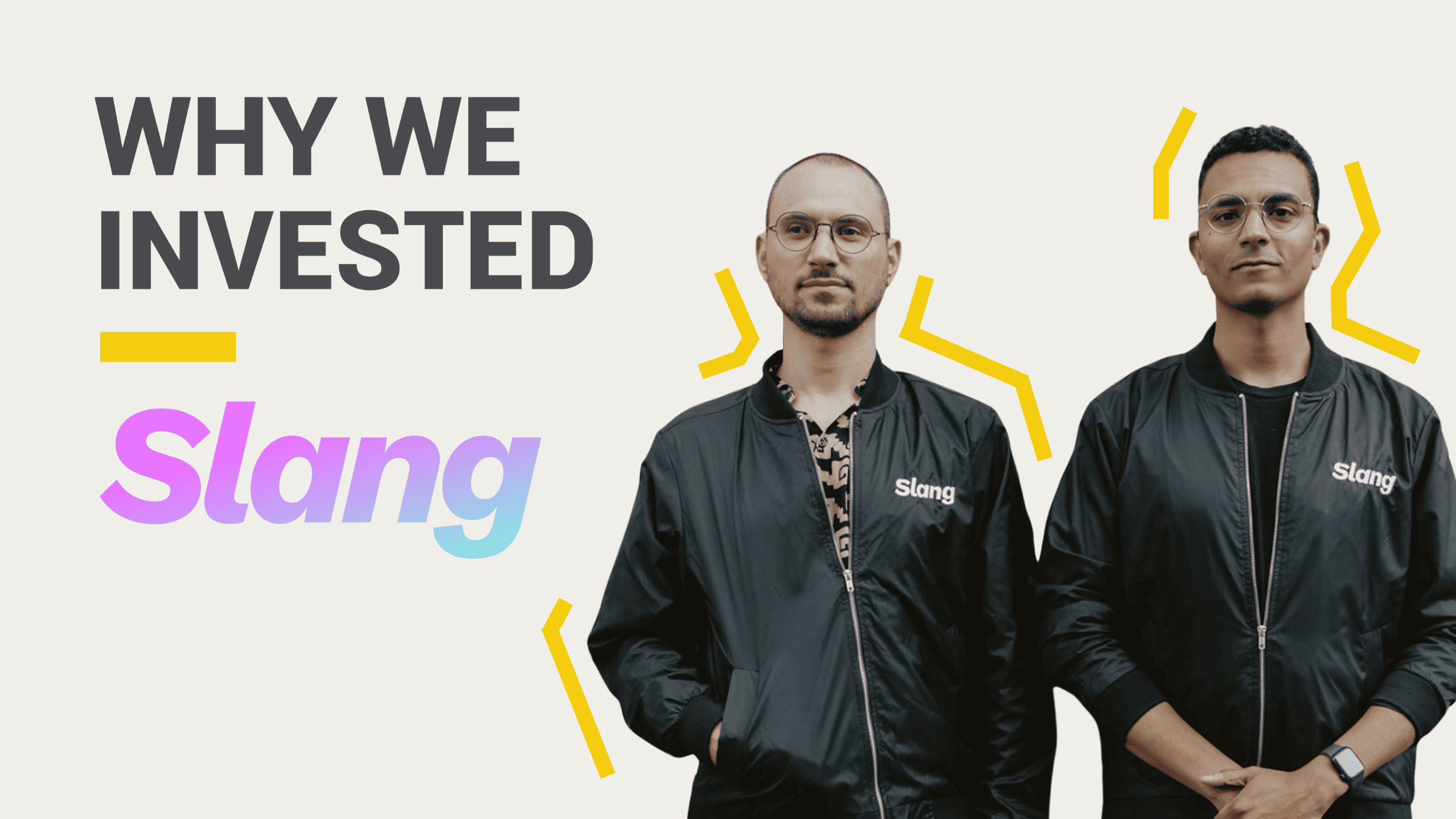 Running a restaurant or brick-and-mortar retail business is demanding.
Between looking after customers, managing payroll, restocking inventory, hiring staff, fixing equipment, and maintaining reservation software, businesses rarely have time to drop everything to answer inbound phone calls.
Even with online ordering and scheduling tools, retailers and restaurants still have phones ringing off the hook. A shocking 60% of customers still prefer to contact businesses over the phone. For restaurants in particular, 70% of customers still prefer to call in reservations, despite restaurants offering online alternatives like OpenTable, Resy, and Toast.
In turn, many businesses are forced to send potential customers directly to voicemail. Some establishments have ditched their phone lines altogether, despite negative feedback from customers. And, unfortunately, automated messages and voice bots rarely resolve the most common caller inquiries, and small businesses can't spend a fortune on custom voice systems.
This is a painful problem. The inability to effectively respond to these inbound phone calls results in poor customer experiences and missed revenue.
Enter Slang AI, which leverages recent advancements in AI to provide a customizable virtual phone agent to transform the phone into a channel that is intelligent, personalized, and delightful for callers. Slang turns voice into an operating system that callers enjoy, while giving time back to busy staff to help customers within the four walls of their business.
We at Underscore VC are proud to have backed the Slang AI team from the earliest days, as the first institutional capital into the company in 2020. Today we're excited to share that Slang has subsequently raised a $12M Series A round, led by Homebrew, with participation from Stage 2 Capital, Wing VC, and prominent angel investors, including celebrity chef Tom Colichio and Adobe Chief Strategy Officer Scott Belsky.
Slang AI: Customer Intelligence for the Phone
Because missed calls lead to soured brand relationships and lost business, Slang AI has created an AI-powered phone concierge that works 24/7 with dozens of voices and soundscapes to choose from. With Slang, customers who prefer to call a business can speak with an interactive, brand-consistent, voice assistant that will help them resolve their inquiry, rather than simply redirect them.
Businesses looking to implement over-the-phone voice technology quickly discover that the available market solutions either push customers away from voice completely, use voice as a way to triage support calls, deliver a sub-optimal caller experience, or require complex and costly implementations.
Slang allows customers to implement cutting-edge voice AI technology without a team of costly developers and long onboarding timelines. Slang's focus on fast, no-code implementation, ease of use, and their attention to detail with the design of dozens of voice experiences, are critical differentiators. Slang customers are up and running in 30 minutes or less. Moreover, Slang allows retail stores to access data intelligence around why their customers are calling to help re-engage them and understand opportunities to drive revenue.
The phone is a channel rich with data, but businesses have no way to access it. Slang is building the first customer intelligence layer for the phone.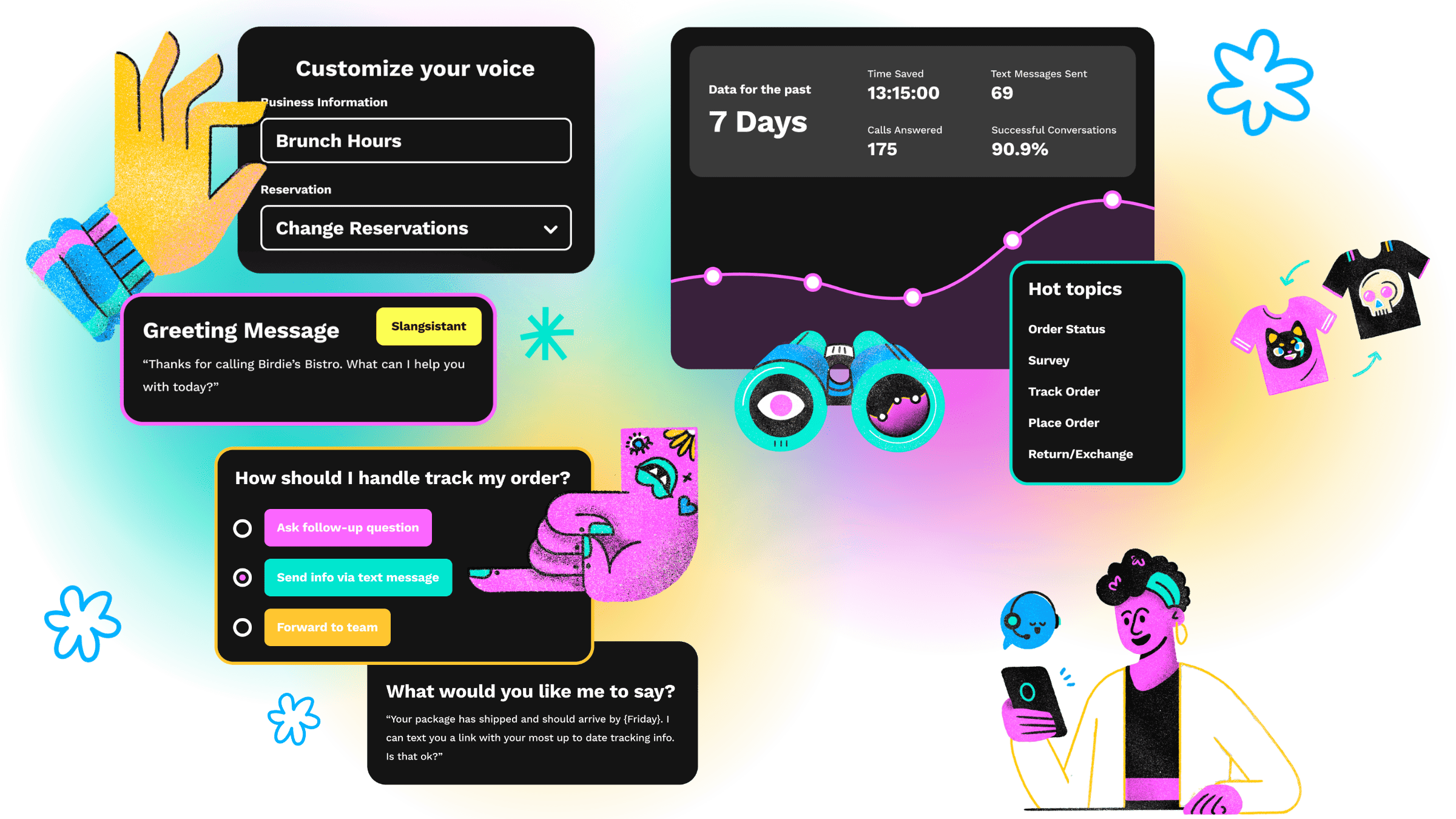 With clear proof points around increasing revenue, reducing staff phone time, and resolving caller demands, Slang has grown quickly to over 200 customers, including Zola, Studs, Slutty Vegan, and IGC Hospitality. Many of these customers receive 50 –100 calls per day and up to 200 during the holidays. Slang fully automates over half of customer inbound calls, and follow-up SMS text messages receive a staggering 80% click-through rate.
A $20B Market Opportunity
SMBs receive over 400 million calls a day not handled by a modern phone solution. Slang seeks to turn each of these calls into a profit generator rather than a headache. With over 1M+ brick and mortar retail businesses and 650,000 restaurants in the US alone, Slang has the opportunity to bring the $20B voice and speech recognition market opportunity to a segment of the economy that previously could not access the latest advancements in AI.
While Slang intentionally targeted restaurants as their beachhead market, they are already seeing demand from retail businesses of all types. Studs, a retail and e-commerce brand reimagining the ear piercing experience, partnered with Slang to help the company's retail team focus on in-store customers. Since partnering with Slang, Studs has achieved a 15% reduction in customer service tickets and unlocked the phone as an additional revenue-driving channel, as 30% of callers book new appointments through Slang.
"Slang has been a game changer for our customer service team's resolution time and changed the way the team works internally. Although Slang was originally intended to be a customer service ticket solution, it has actually turned out to be a customer conversion unlock. The phone reporting and phone data has given us a new dimension of insight into our customers." – Jane Hur, Director of Product, Studs
As excited as we are about the market opportunity ahead of Slang, we're equally excited about Slang's founders, Alex Sambvani and Gabe Duncan, who are the perfect fit for the opportunity to turn voice into a revenue and customer-data-generating, interaction layer for SMBs.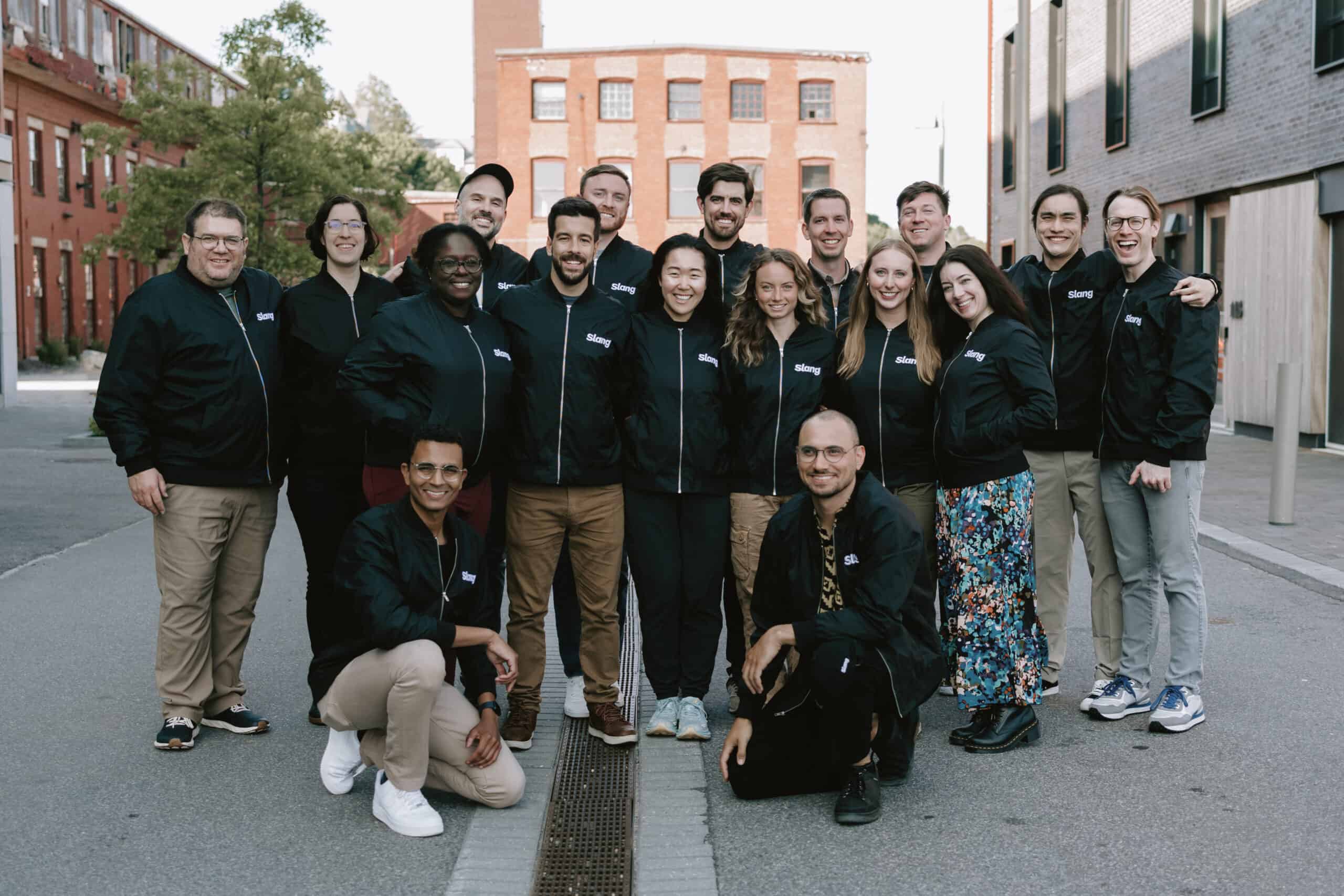 Founders Experienced in Implementing AI at Scale
Slang's co-founders were building in the generative AI space well before the recent AI buzz. Alex Sambvani and Gabe Duncan met while on the data science team at Spotify. Their roles focused on implementing personalized voice AI at scale. Together they entered a Spotify hackathon and built a personality-forward voice AI app that went on to win the entire competition out of over a hundred ideas. This experience served as the creative spark for Slang.
Alex and Gabe quickly recognized the incredible opportunity for voice and AI. But, while AI innovation to date had been almost excessively at the enterprise and startup level, they felt that applying AI to SMBs and midmarket businesses would be‌ even more transformative. In turn, they saw an unmet need to develop a system that was simple to deploy and didn't require the support of world-class engineers and data scientists. So they bid Spotify adieu and founded Slang.
When the Underscore team first met Alex through a Core Community event at Harvard Business School, Slang had already built its initial MVP and had a few live customers. The Slang team's balance of technical and product talent, paired with a strong focus on customer experience and design immediately impressed us. It was later made clear that the team had an innate ability to build fast while maintaining an intense customer focus. They had their early product in the hands of paying customers within months of starting the company.
We see the Slang team's unique blend of engineering, data science, and voice experience, combined with a highly attuned sense for design and UX, as a key differentiator for the Slang product.
What's Next for Slang AI
By 2030, Slang aims to save businesses and consumers 1 billion minutes of precious time, while transforming branded voice experiences into a preferred mode of communication. Slang's funding will fuel this mission. The Series A round will advance product partnerships and integrations, and continue the growth of the go-to-market team.
Through Underscore's Core Partner Program, the Slang AI team has also brought on two advisors, Bryan Dsouza and Ben Davis. Each is a battle-tested GTM leader supporting Slang's founders across GTM planning and team development.
If you're interested in joining Slang to help build the first customer intelligence layer for the phone, see open roles here!