Boston Startups Navigating & Taking on Covid-19
It can't be ignored that our workplaces are evolving right before our eyes in the midst of the coronavirus (COVID-19). Notwithstanding its devastating impact on public health and safety, the global economy, and families here and abroad, the COVID-19 pandemic lends itself to a fascinating case study.
Universities are holding classes strictly online, conferences are going virtual, and knowledge workers are relying heavily on Zoom. Not to mention that disconnected families and friends all over the world are too. In a matter of weeks, COVID-19 has expedited digital transformation across the world.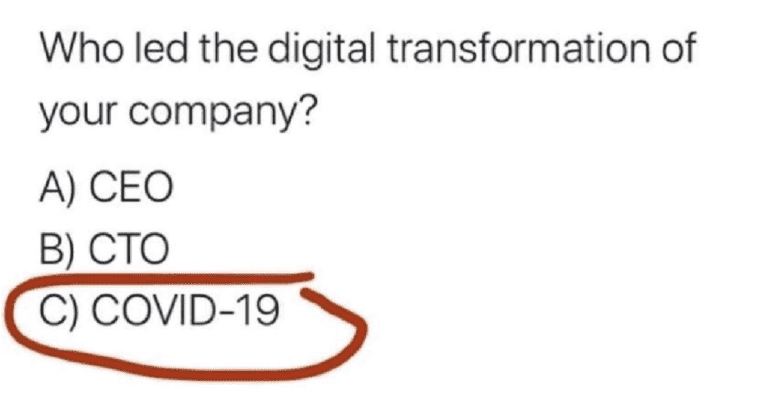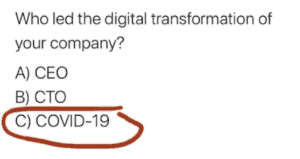 In the midst of this colossal shift, I've had a front-row seat to the day-by-day adjustments Boston startups are making to rise to the occasion and take on the challenges presented by coronavirus.
Don't get me wrong. The New York Times isn't painting an unfactual picture with headlines like, "Startups are Pummeled in the 'Great Unwinding'." The numbers are stark and not all the battles will be won. But amidst the chaos, there is an eerie clarity that only "survival mode" can incite.
As a result, I've seen fierce leadership. I've seen bullish determination. And I've seen an incredible level of compassion in Boston and beyond.
This pandemic has exposed many truths about the world, and the startup world is no exception. This global crisis is crystalizing for us what truly makes startup teams so special and why we're so passionate about investing in them at Underscore.
We've seen the grittiest of entrepreneurs among us embrace what I'm now not-so-fondly referring to as the "Pandemic Pivot." They've swiftly and temporarily modified their businesses: from meeting surges in demand to switching their focus to a key product feature to showcasing an element of their underlying value proposition that wasn't so critical until now.
Sometimes adversity and limitations can inspire creative adaptation that would not have been possible otherwise. It's been said that necessity is the mother of invention. And, having attended our portfolio company "Founders Forum" this week, I can confirm that is most certainly true.
Across Boston and our portfolio, agile companies have been successful in quickly creating transparent communications with customers (Hi Marley and LearnLux are two portfolio companies that come to mind, and Zaius pivoted its marketing strategy to focus on brands that are doing exactly that, living their promise of customer-centricity). Others have gotten creative with their pricing and packaging, while many more have spun up entirely new offerings overnight.
So while most of us are feeling like we're trapped in a scary science fiction novel, I've chosen to share these stories with you. Why? Because they're the types of stories that inspire further creativity, action, and perseverance, which is exactly what we need to get through this mess.
It's not business as usual. It's business as unusual. Here are a few bold entrepreneurs bravely leaning into it:
Bold Actions
Popcart, a browser extension that automatically compares prices while you shop, rapidly developed and launched The Supply Finder, a site that quickly allows you to see what essential supplies (sanitizer, hand soap, toilet paper, etc.) are in stock and if they're listed at a fair price.
Soofa is making it easier for cities to transmit emergency announcements in public spaces on their digital signs. Their "neighborhood news feeds" have been used in Massachusetts and Atlanta to post trusted health updates, and hyper-localized closures and cancelations. Local business accounts are currently being offered for free, to advertise gift cards, delivery services, or other promotions. Community members can also view and post messages of gratitude, positivity, and solidarity. Additionally, the signs are used to monitor pedestrian traffic, which has declined by around 50%.
Marlo, which fights back against unproductive meetings by delivering real-time meeting feedback, has been working hard to trim their new feature launch timeline from months to weeks. The new features will help many employees transition to virtual meetings and stay productive as they enable a remote-friendly workforce.
Friday, which has developed a platform that streamlines routine updates for distributed teams, is supporting Maine-based businesses with under 50 employees by giving away free access to their product.
SYRG built free tools to support employers and employees impacted by unexpected illness and unemployment. UIHelp.org, which they built in a matter of days, helps hourly workers get real-time information about applying for and maintaining unemployment benefits. Additionally, their Health Status Hotline allows hourly workers a simple way to call in sick without the fear of losing their jobs, and employers can track that absence data to make quick, informed strategic decisions.
RemoteHQ, a collaborative workspace for distributed teams, is helping students, teachers, and colleagues stay connected and work together remotely, for FREE. In light of COVID-19, RemoteHQ is offering free access to their virtual office or classroom. There is no download required and their co-browsing, whiteboarding, joint note-taking, transcription, and auto-saved session logs are making collaboration a breeze for us at Underscore VC.
CloudZero helps businesses save money on their cloud services (which are particularly meaningful savings right now). CloudZero and AWS are offering a free cloud waste assessment for any company building on AWS, plus free AWS credits for those who ultimately choose to purchase CloudZero for continuous cost optimization. We've encouraged all of our applicable portfolio companies to use them to identify savings and, outside of our portfolio, Boston companies such as Drift are already realizing savings.
Salsify was incredibly fast to react to the threat of coronavirus. The Boston Globe reported on the measures they were taking at the start of March to prep their workforce globally for remote work. They did a no-notice office closure early on to identify the kinks they would have to work out before the inevitable unfolded. Additionally, their marketing team swiftly created the COVID-19 Digital Shelf Resource Center and took their now free Digital Shelf Summit virtual.
Routable AI, which participated in our 2019 UFirst Accelerator, adapted their vehicle routing technology to help Boston Healthcare for the Homeless Program (BHCHP) locate the appropriate beds for homeless people suffering as a result of coronavirus. The tool is making it easier for them to allocate hundreds of patients to the appropriate bed in temporary facilities.
Frase, which also participated in our 2019 UFirst Accelerator, has partnered with the American Association for Prescription Medicine to deploy a website with question and answer technology that can address inquiries around COVID-19. Answer sources will be maintained by a community of public health experts.
Underscore portfolio companies are just some of the many Boston based startups who are stepping up to support the larger community with their innovative developments. Several other notable examples of this leadership we admire include:
Toast, the all-in-one restaurant POS provider, is generously responding to Covid-19 by providing a one-month credit of software fees to all of their customers and three months free for additional essential products they might need during this time, like Toast TakeOut.
FormLabs is working with hospital systems and government agencies to get 3D-printed swabs, adjustment straps for facial shields, and respiratory mask adapters out into the world.
Privy is launching a new marketplace to help small ecommerce businesses thrive and survive during these times.
EzCater is encouraging the community to #FeedTheFrontlines and support local restaurants by purchasing meals for healthcare professionals on the front lines. They're waiving all commissions for orders through April 15th, so that local restaurants get 100% of what you contribute.They've not sent more than $100K in meals.
Drafted has created The Layoff List to help those whose employment was impacted by the virus get connected to new opportunities.
Eager Labs a leadership development platform is offering their small interactive online training programs for free – including multiple workshops on "Managing Through Change."
CareAcademy is offering a free COVID-19 Certification Class preparing direct care workers to perform critical frontline work during today's challenging times.
Jebbit it creating custom content and donating media to help amplify critical COVID-19 information.
Cake is facilitating end-of-life planning free of charge and is providing advice to those feeling anxious about their mortality.
ProfitWell has created the "Subscription Stimulus," which includes Discounts worth 10% of your MRR on any new products, real-time data on industry trends from our daily subscription index, and access to a community connecting you with other SaaS founders and operators.
Buoy Health's healthcare symptom checker added a new coronavirus function which can also report what symptoms patients are reporting at home in an effort to detect clusters of the disease early.
Nift, a digital gift card platform, launched an online store where users can buy $30 pre-paid digital gift cards to thousands of small businesses.
Fincura is helping commercial lenders by offering to identify existing borrowers that are at-risk, as well as same-day onboarding and training, a white-labeled application portal, and access to their premium-tier product that enables underwriting in less than 5 minutes.
Beantown Bedding's eco-disposable sheets are helping hospitals, field hospitals, and emergency management organizations handle surges and infection control.
Validity has rolled out a no-charge email service to government officials, agencies and other organizations that need to get critical messages related to public safety delivered right to the inbox, not the spam filter.
Uptime Health is offering its GoCheckit product for free. GoCheckit lets healthcare facilities simply manage new protocols, which are changing rapidly, and educate their staff on any updates digitally.
Knoq, a startup aimed at building a world where neighbors help neighbors, has suspended their door-knocking activities and transitioned their "knoqers" to focus on safety shopping for groceries and delivering essential items to those in need. They've teamed up with the Greater Boston Food Bank, the Food Equity Initiative and Kroger to get it done!
Outcomes4me, which offers a helpful app for breast cancer patients, has launched a content section in their app which focuses on helping cancer patients juggling COVID-19 concerns. They've also organizing webinars w/ oncologists.
Unruly Studios, an EdTech startup, announces a nationwide STEM grant for educators in response to COVID-19.
Lovepop, a 3D greeting cards startup, has begun manufacturing personal protective equipment for healthcare workers. And their PPE is pretty cute if you ask me!
Rocket, which is admittedly not a Boston startup, created a free product called Parachute, which consolidates and standardizes layoff data with powerful filters. While they're not a Boston company, amazing talent from across Boston is in their database for you to tap into!
And that's just the tip of the iceberg. There are countless more stories of resilience and courage coming out of Boston startups.
*Share your stories here, and I'll keep this blog post updated!*
Stay safe and stay sane,
Devin