Why We Invested in TetraScience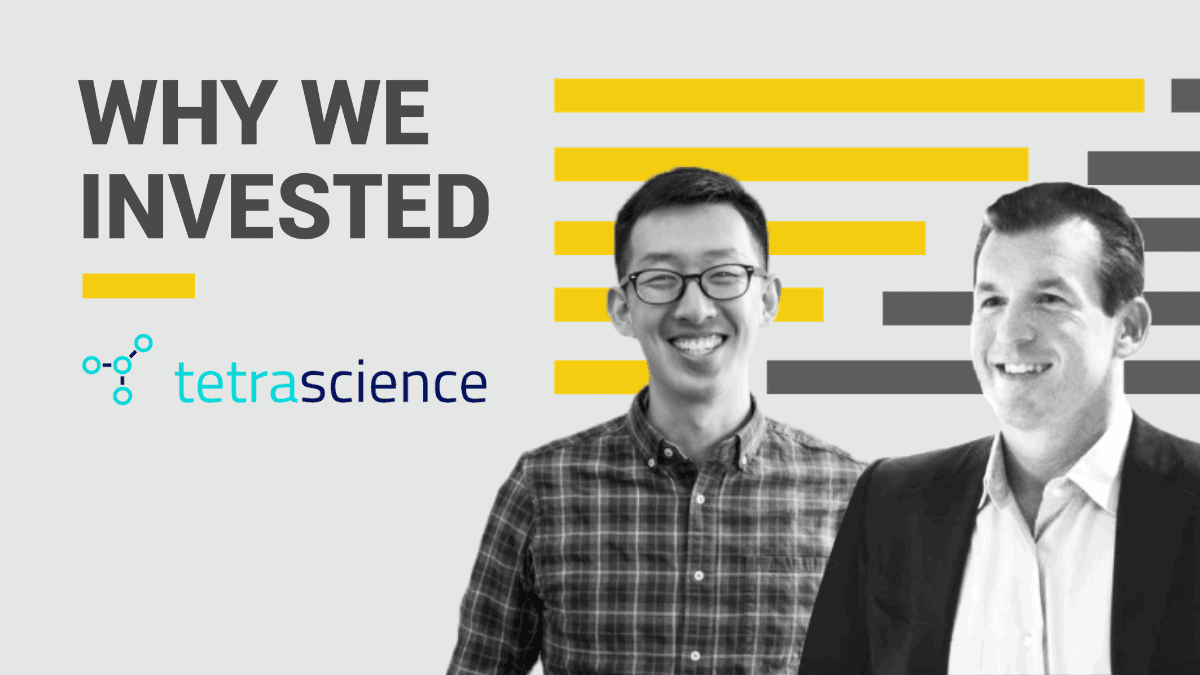 2020 seemed like an appropriate year to invest in a company that prioritizes the enhancement and extension of human life.
That's part of the mission statement of TetraScience – the R&D data cloud provider for global pharmaceutical companies. Aiming to knock down data silos for businesses in this industry, Tetrascience is enabling the scientific community to access centralized, harmonized, and actionable data to fuel innovation, facilitate collaboration, and accelerate discovery.
All of these reasons and more are why we're excited to announce that Underscore VC led an $11M Series A Round for TetraScience – an up-and-coming industry leader that has already added 12 top global pharma customers and grown revenues 10x in a lucrative and essential domain. Our investment in TetraScience will help grow its customer base in this industry, which collectively spends $300 billion on R&D annually.
Our History With TetraScience
The teams at TetraScience and Underscore have been in communication and partnership for years – and this investment is an affirmation of the progress we've seen following our Seed round investment back in 2016.
We were first introduced to the business through Underscore's Startup Secrets content series, which gave us the opportunity to connect with its original founders Siping "Spin" Wang and Salvatore Savo. Wang and Savo are former researchers from Harvard and MIT, and they have shown their scientific intellect is matched only by their ability to scale a business.
In May 2019, B2B cloud pioneer and early Unicorn founder, Patrick Grady, joined TetraScience as Executive Chairman to partner with Spin Wang, founder and CEO, to help the company capitalize on early customer learnings, deemphasize its IoT product, and chart a new course to becoming the dominant R&D Data Cloud company. Since then, product-market fit for the Tetra R&D Data Cloud has been established and growth metrics have been best in class with 2020 ARR growing 10x over 2019, and 2021 ARR expected to increase 3x over 2020.
The company has produced unmatched technology in its domain and is enjoying a first-mover advantage with its R&D Data Cloud. This has resulted in early customer traction that had us excited about the opportunity to further invest in TetraScience.
Investing in the Development of Impactful Technology
The TetraScience Data Platform is driving the future of R&D in the cloud.
The company is taking a four-step approach to developing a solution for R&D labs, which are finding themselves needing to accelerate their pace of discovery and innovation while managing operations at scale in a newly remote setting.
Automating Data Collection. Automated data collection reduces the possibility of human error in these extremely sensitive projects, saving researchers time and helping them arrive at findings faster and with more accuracy.
Making Data Cloud-Accessible. Unlike many of its competitors, TetraScience centrally organizes R&D data in a data lake in the cloud. Tetra Data Platform customers enjoy all the benefits of moving to the cloud – faster time to market, greater operational efficiency, and increased performance.
Harmonizing and Normalizing Data. TetraScience is uniquely instrument and vendor agnostic, providing the world's largest open integration network and giving customers a universal tool to analyze data regardless of the source.
Preparing Data in a Consistent Manner. This feature allows data scientists to use data with metadata and a proven R&D-specific data schema, easing the process for all involved in a given research project.
Collectively, these steps provide an advanced data engineering solution that makes experimental data accessible and actionable – particularly for the world's leading pharmaceutical companies.
The life sciences yearly spend on R&D is approximately $300 billion, and with this arsenal of unmatched features and capabilities, TetraScience is well equipped to build on the rising trend of digital transformation seen in multiple business sectors.
The product and its positioning are poised to become a critical piece of technology for R&D teams that ultimately will have a very long replacement cycle, leading to the attraction and retainment of a sizable amount of multi-year contracts – each of which could amount to seven or eight figures on their own.
Building on Incredible Traction
Looking at TetraScience's recent growth and milestones, we knew it was the perfect time to provide a second investment in the company.
TetraScience currently counts 12 of the top 40 pharmaceutical companies as customers, with Novo Nordisk – a leader in treating diabetes and hormone-related disorders – among them. Additionally, a recently inked multi-million dollar partnership with Waters Corporation was announced just weeks ago.
With this additional investment, TetraScience will build a scalable go-to-market function to acquire several more large, multi-year enterprise contracts.
To continue this growth and meet its customer and revenue acquisition goals, TetraScience is operationalizing a team of executive new hires – and expects to double the size of the company by the end of the year, starting with these essential roles listed on its website.
Onwards to the Next Chapter of Building
Given the life-changing discoveries TetraScience unlocks, we're particularly honored at Underscore to support this next phase of growth. When TetraScience succeeds, we all win. Onwards to the future discoveries!