Winning the Digital Shelf: Why We Invested in Salsify's $155M Series E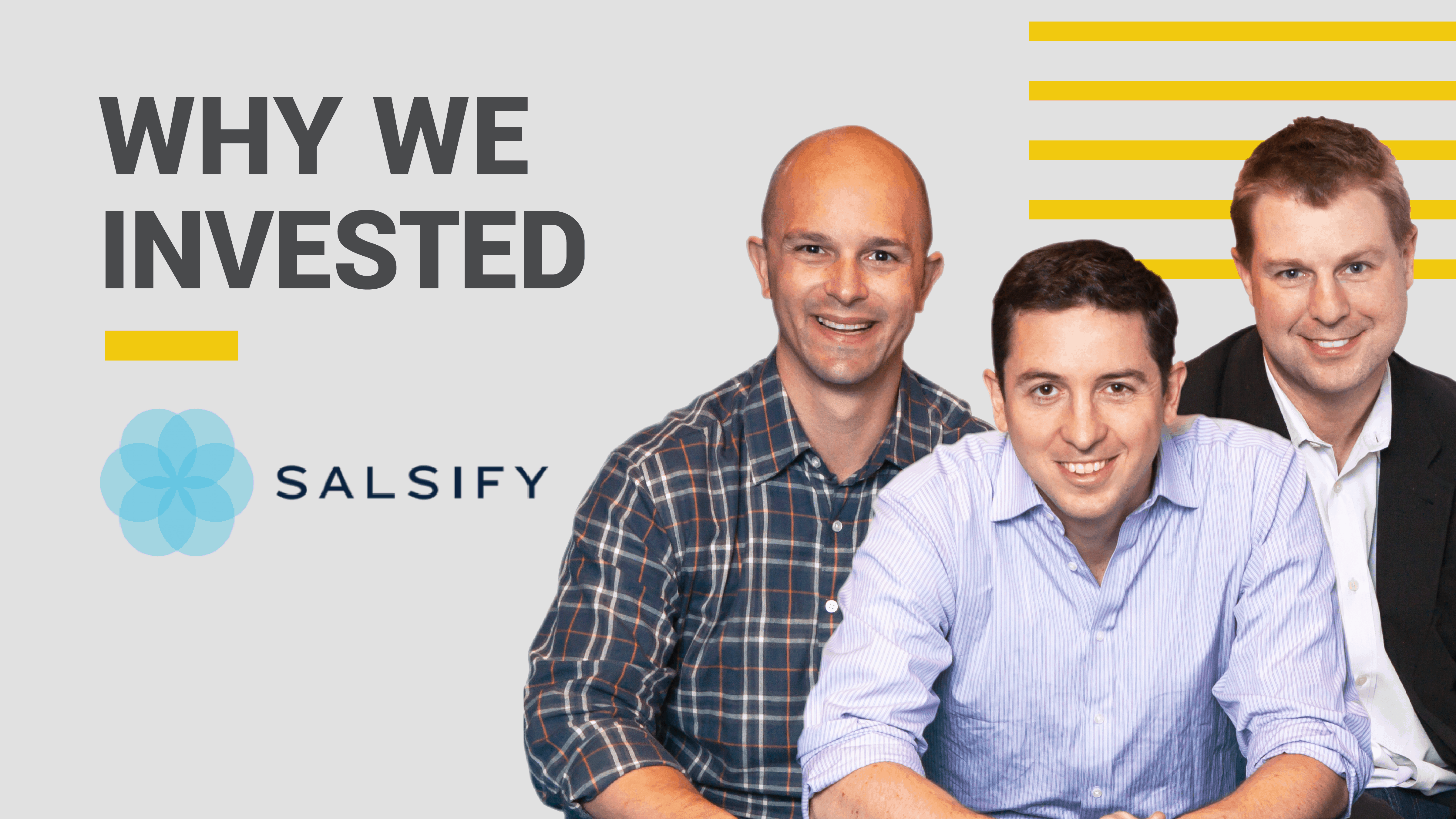 Retail ecommerce sales are poised to surpass $4 billion in 2020, and 88% of consumers are conducting online research before making their purchases online or in person.
As if that was not compelling enough, In the B2B space, Gartner predicts that organizations "with digital commerce offerings will see 30% more revenue and a 20% reduction in costs."
What does all this mean? Companies are rightfully vying hard for visibility on the digital shelf, and in doing so they're creating a multi-trillion dollar market opportunity.
Enter Salsify, the Boston headquartered commerce experience management company that's been expertly executing since its founding on its plan to disrupt the $3.9 trillion global ecommerce industry.
Now partnered with hundreds of organizations – including Fortune 500 brands such as Coca Cola, L'Oreal, and 3M – Salsify is powering the experiences shoppers demand at every stage of the buying journey, and in doing so they're attracting the attention of leading late-stage investors.
Today, Salsify announced that it has earned $155M in Series E funding to further fuel the company's growth. The round was led by Warburg Pincus, a leading global private equity firm focused on late-stage investing. Having invested in Salsify and its leadership team since the company's inception, we're once again honored to back Rob Gonzalez, Jeremy Redburn, Jason Purcell, and the Salsify team in this latest round of funding.

The Series E raise reflects an ongoing and growing trend amongst late-stage companies. Increasingly proven private companies are raising more late-stage capital to play a bigger game faster and dominate their space before going public. With this raise, Salsify is poised to dominate its market, connect more businesses to buyers, and plot its path to IPO.
Warburg Pincus Managing Director, Vishnu Menon, who will be joining the Salsify board, noted that "Salsify has an extraordinary growth story." And remarked, against that backdrop of a pandemic, that "Salsify's platform has proven to be essential to enabling commerce through the recent crisis."
"We strongly believe that the company is well-positioned to capitalize on the increase in demand for digital shelf solutions. We're thrilled to partner and support Salsify as they accelerate the growth of their commerce experience platform, advance innovation, and support their clients," said Menon.
Underscore Co-Founder & Partner Michael Skok, who's involvement and investment in Salsify dates back to its founding, believes that Salsify's growth potential is driven by enormous market demand. Skok compares Salsify favorably to Demandware, stating "We were delighted to be invested in Demandware from day zero through to their IPO and eventual $2.8B acquisition by Salesforce, and we see Salsify as having even greater potential given that B2B is a much larger commerce space."
Why We Invested in Salsify
Here are other noteworthy elements of Salsify's story that made us want to back them again.
Customer-Validated Market Potential
In 2013, Michael Skok said "The best time to raise capital is with (a) all the potential or (b) plenty of proof. Salsify decided to show both potential and proof." In the last seven years, our opinion of Salsify has become even more positive as their list of satisfied customers continues to grow.
Salsify has earned the business of its nearly 800 customers and is trusted by organizations like Johnson & Johnson, L'oreal, LEGO, Coty, and Mars for consistency in the branding, information, and content shown to online shoppers and researchers. With a 120% net revenue retention rate among its base – which includes 225 organizations that have more than $1 billion in revenue – Salsify is a proven success for companies in the ecommerce market. Just look at their ever-growing logo wall in their Boston HQ:

"For Libbey, being on the forefront of commerce means that our target consumers are greeted with the same great brand experience across every digital channel, and our internal teams are operating with maximum efficiency through centralized product content and order and inventory management. Salsify continues to be a great partner in helping us push the envelope towards offering a commerce experience that others in our industry simply can't touch." — Ryan Griffith, Sr. Director of Ecommerce, Libbey, Inc.
Big, Consistent Movement
Salsify's leaders are forward-looking, innovative, and always hungry – exactly the traits we look for in the founders that we back. From day one, the Salsify team had its sights set on building a massive company, and they're on the road to doing just that.
Since its founding in 2012, Salsify has gone from one location in Boston to three, adding offices in Chicago, and Lisbon to support its 400+ employees. Its international reach has resulted in its product being utilized in more than 80 countries, with nearly one billion products having been published on Salsify.
Utilizing smart contingency planning to navigate the challenges of COVID-19, Salsify expertly turned 2020 into a period of growth, laying the foundation and developing the award-winning culture required to unlock even more potential. On top of its funding, Salsify announced the launch of its CommerceXM platform to help all customers win on the digital shelf.

This announcement also comes alongside the news that industry expert Mike Milburn, former Chief Customer Officer for Salesforce, has been named Salsify's President. In this role, Mike will lead all go-to-market and customer operations, revealing Salsify's multi-billion dollar business potential and ambitions.
Making Room on the Digital Shelf
Like Salsify, we recognize the role that detailed, accurate commerce experiences have on someone's buying – both online and in person. This is an important element of our commerce investing thesis, as more B2B software purchases are dependent on online research before purchase.
For those reasons, we're proud to support Salsify as it continues to make it easier for buyers to find and consume trustworthy facts about the products and services which they are considering purchasing.
What's Next for Salsify
With this new round of funding, Salsify plans to accelerate the development of the new CommerceXM product and continue to break down borders with aggressive international growth.
If you're interested in learning more about joining Salsify on its mission, they're hiring. Check out the company's open roles here!