Starting Early: How Salsify First Defined its Culture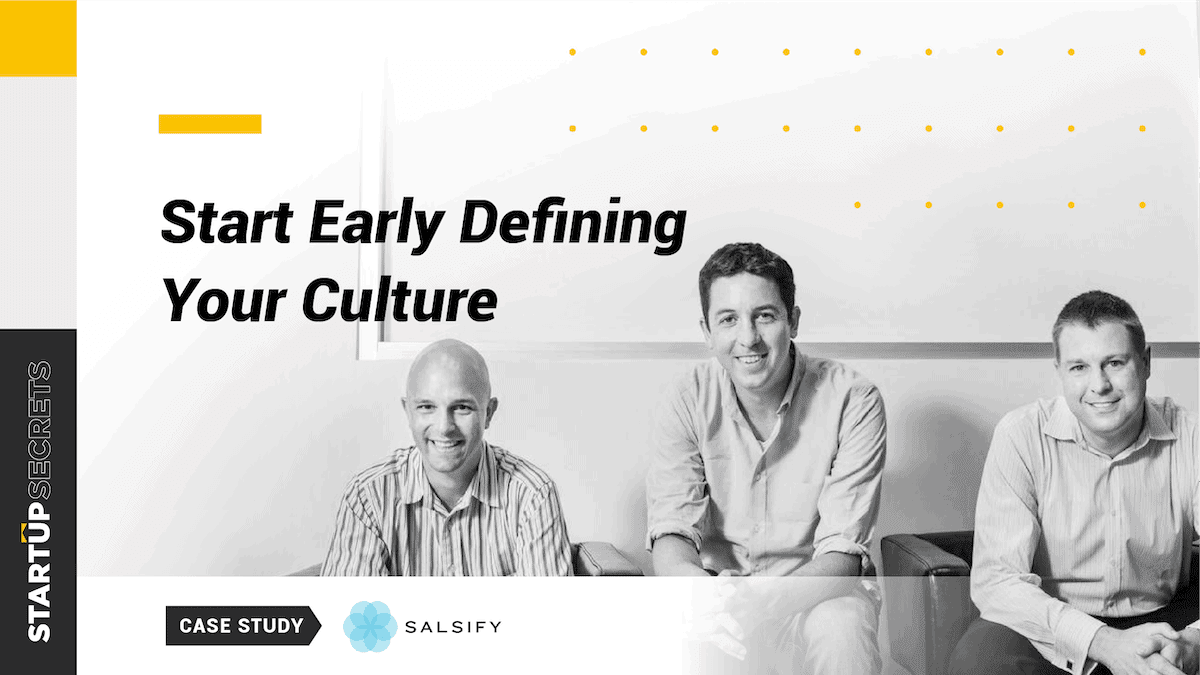 When it comes to creating a strong and dynamic culture, plenty of startups talk the talk. But once you get past the buzzwords and window dressing, how many actually know how to translate that culture into tangible impact and value? It's not enough to simply draft some progressive HR policies and add some fun perks. That's all well and good … but that's not culture.
Culture is what lives within a company's DNA. It's what guides day-to-day decisions large and small. It determines how employees own their roles and responsibilities, serve customers and treat each other. A truly vibrant culture can unleash a competitive energy that comes when a motivated team unites around a common set of goals. To make it work, companies need to live it, breathe it, and share it every day.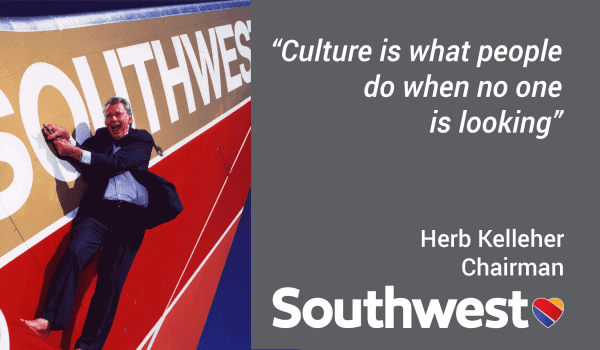 Easily said, but not so easily done. Let's bring it to life with an example: Salsify, a company that understands this very well and has done it right since day one.
Salsify: An Actionable Focus on Customer Success
Jason Purcell, Jeremy Redburn, and Rob Gonzalez founded Salsify in 2012 with a bold mission: to transform the backbone of global commerce. In a fast-changing world of endless consumer choices, they knew companies needed a better way to create, manage, and exchange great product information wherever those products are sold. It's a difficult problem to solve, but the founders believed they could do it better than anyone else.
The past few years have proven them right. Salsify has grown at a blistering pace and attracted a stellar roster of global clients — Coca-Cola, Bosch, Rawlings, Fruit of the Loom, Nine West, and many others.
We were lucky enough to work with Salsify since pre-funding, and asked by the founding team to bring the Startup Secrets culture frameworks to help them formulate their culture. That was a privilege that enabled us to see how from day one, the founders made it a priority to envision the kind of company they wished to build and the kind of people they wanted to attract to build it. The founders distilled it into six values that set a tone of empowerment and transparency.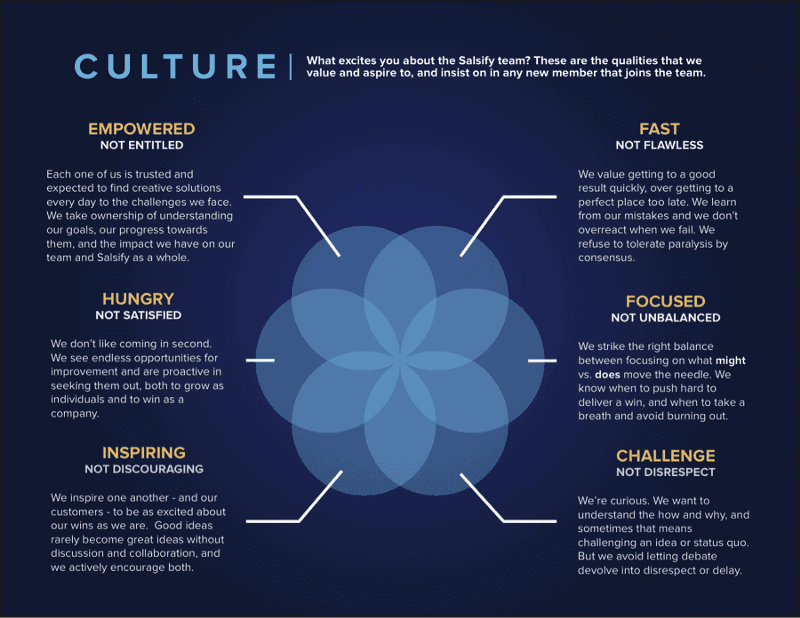 They used these values as a benchmark to make hiring decisions and build a team capable of bringing their vision to life.
Co-founder Rob Gonzalez is passionate on this subject. "We want people to take individual empowerment very seriously" he says. "People are most effective when they have authority and own their projects. We don't tell them what to do. We say 'here's the problem, figure it out' because we know they really care about customers, quality and doing it right."
Codifying the Culture
Rob continues by saying "It starts with codifying values and living them every day." To live them, Salsify translated these into goals to provide actionable focus. At the top of the list? Delighting customers, and with measurable metrics for growth.

"We're a very transparent organization," says Ashley Krahn, Salsify's Director of Account Management. "If you have a really great idea that will help our customers be more successful, you can present it internally, run with it and push it out."
A spirit of transparency applies to customer relationships as well. At a recent hackathon, customers came in to work with the engineering team on new product features, many of which were built and implemented within hours.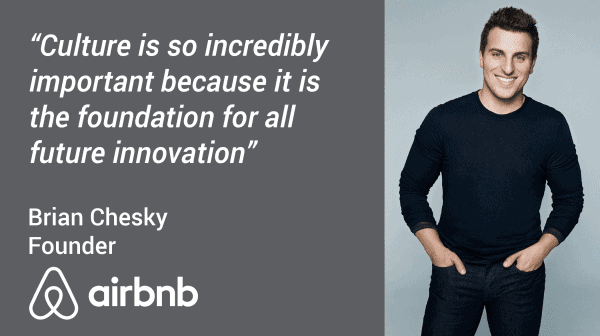 At an executive summit (which they transparently invited Underscore to attend), senior-level clients came in to discuss their e-commerce challenges and how Salsify could help address them. Events like these allow Salsify to learn about customer pain points, unfiltered, and quickly incorporate these learnings into their solutions.
This also allowed us as investors to share in their learnings and understand how to partner with them. Creating broader stakeholder understanding and buy in to your culture like this is key and it made it easy when it came time to lead their latest $30m financing.
Companies win when their culture creates impact and value through long running execution.
Salsify's rapid growth (300% last year alone) shows that the benefits of a strong culture are anything but soft. Culture is measurable and has a profound business impact. And of course Salsify chose to measure their impact through their customers' success. This makes it tangible and real. In the words of Rob Gonzalez:
The key to instilling culture is to keep it simple, keep it real, and let everyone know what's expected of them.
While any startup like Salsify that meets a huge and growing market need has the opportunity to build a big business, the only way to make it great and enduring is to ensure long term customer success. Salsify has not just made this part of their culture, they've focused on it and been thoughtful and strategic about how to make it work in the long run.
Coming full circle, execution relies on people you attract with a great culture.
Of course none of this would have been possible if Salsify weren't able to consistently attract, retain and reward the right people. The consistency comes from the compelling culture at the start, but then to sustain it, it relies on the team being empowered by the culture to execute to the best of their abilities. And finally the rewards are only possible if they are genuinely making customers successful.
This is a Startup Secret we call the virtuous circle of consistent cultures.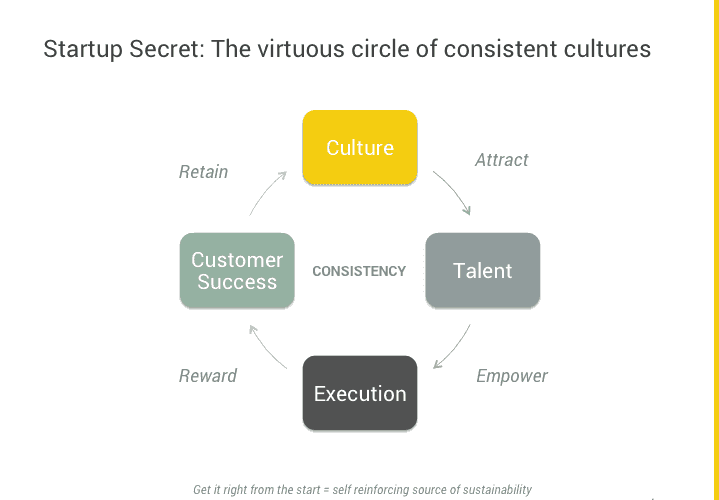 When you get it right as Salsify has done from the start, it's self reinforcing and is the source of sustainability but we prefer Rob's words:
"It's about hiring the right people, and setting them free to find new ways to do things, to work independently, to create and experiment — all in the service of helping customers win."
It's no surprise then that Salsify was recently named one of Fortune's "Best Companies to Work For."
This matters for a lot of reasons. It makes them a first-choice employer for the best talent. Over time this has proven itself as a competitive edge in Fortune 100 companies that have earned this designation: They have consistently — and significantly — outperformed their peers in the S&P 500.
In this kind of environment, important decisions are made every day by employees at every level. According to Gonzalez, "culture is the context that enables those decisions. It establishes the social norms that determine what is okay and what is not."
We're proud to underscore Salsify's culture, their team and their execution with their customers, leading their $30m Series C financing. We believe their future is very bright.